I  know this story is old news to most Elvis fans, but I was surprised to find out how many new Elvis fans never heard about this.
( you can see he is sporting his Elvis shades)
Upon arrival at Graceland Mr. Koizumi says: "It's a dream"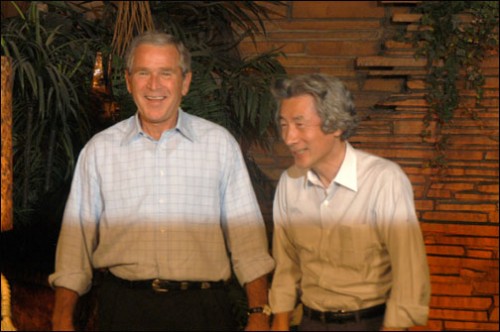 (Bush and Koizuma in the Jungle room at Graceland)
You're a pretty good Elvis singer', the president said, in an obvious prompt to his guest. Bush knew what was coming, having previously experienced Koizumi's tendency to burst into song when it comes to the late rock 'n' roll legend who is the Japanese leader's undisputed musical hero.
Koizumi quickly complied. Love me tender, he sang. 'Wise men say, 'Only fools rush in'.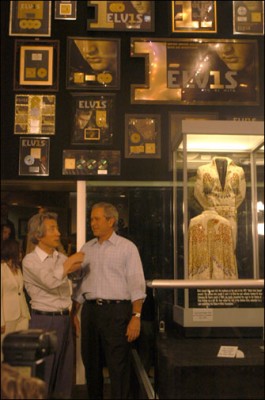 Prime Minister Koizumi, Self-described Elvis 'maniac' proudly shares the same birthdate as Elvis (Jan. 8th)
The premier, whose brother, Masaya, once ran the Elvis fan club in Yokohoma and was instrumental in erecting a Presley statue in Tokyo in 1987.
Koizumi reportedly sang Elvis songs in a duet with actor Tom Cruise while the latter was in Japan filming 'The Last Samurai', and
in 2005, after a speech to the Asia Society in Sydney, Australia, Koizumi also sang along with the Australian foreign minister when an orchestra struck up 'I Can't Help Falling In Love With You'
Shortly after taking office in 2001, the popular but unlikely sex symbol with the "lion's mane" hairdo surprised his countrymen by releasing a CD of his 25 favorite Elvis hits, including 'I Want You, I Need You, I Love You', 'Are you Lonesome Tonight?' and 'It's Now or Never'. Proceeds went to a Japanese charity.
He had already written a letter to a local Elvis fan club in which he said, 'I never get tired of listening to his songs no matter how many times I hear them. … Elvis is forever and so are his songs'
Message To Elvis Fans From Mr. Junichiro Koizumi, Prime Minister of Japan
The following is the (spoken) message specifically released by the Prime Minister to Elvis fans at large.
Yes, I really love Elvis. I am no fussy about genres of music, from classics to rock. Elvis has been my most favorite for long. Sure, my younger brother, who is also an Elvis maniac enlightened me about Elvis. He once got involved in fan club affairs as a head of local chapter in Yokohama.
But I took a liking to Elvis as early as when he made the sensational debut. Elvis is the best and a class by himself when he sings rock or ballad or any type of songs. I never get tired of listening no matter how many times I hear him over more than 40 years in my life. Above all, I like his songs, say, 'I Want You, I Need You, I Love You', 'Hawaiian Wedding Song' and 'Bridge Over Troubled Water'.
When "Elvis The Concert" came to Japan in Nov. 1999, I went to Tokyo Forum not to miss this once-in-my-life chance. It was so electrifying, even really touching. There never be a superstar like Elvis before nor after Elvis. I am sure he was the greatest singer ever lived in the 20th century.
Since I took office (of the Prime Minister), I have been so busy that I literally have no time for sleep. In weekends, when I find time to be back (to my private) home, and can afford listening to Elvis songs after weeks long craving, certainly his voice eases off my fatigue.
These days, I feel sort of healing power from his Gospels. No doubt, Elvis' recordings are a godsend great legacy of art from the last century. Elvis is forever and so are his songs. We should share this legacy with many more people, not just by fan-club people alone. Especially, younger generations now.
Whoops! I almost forgot to say this: my birthday is January 8th, the same day of Elvis', that is what I always speak proudly of …. 'I have been an Elvis fan since my young days and love music from classics to rock'
Elvis Presley Fan Club Tokyo