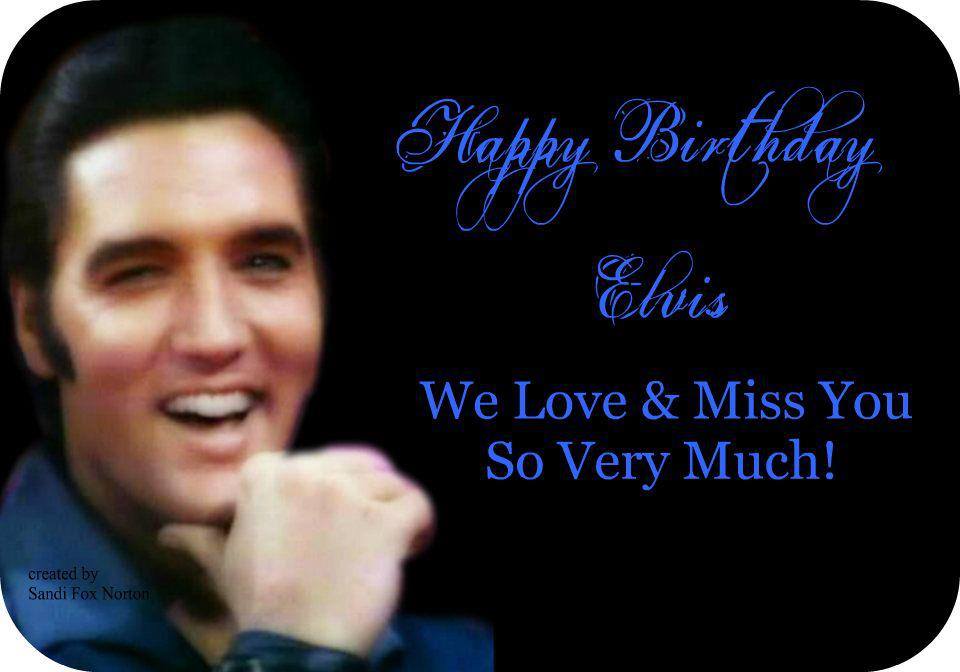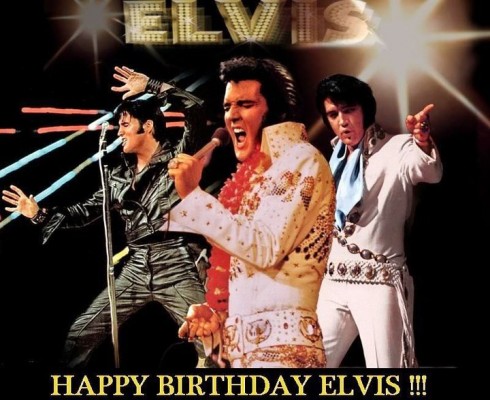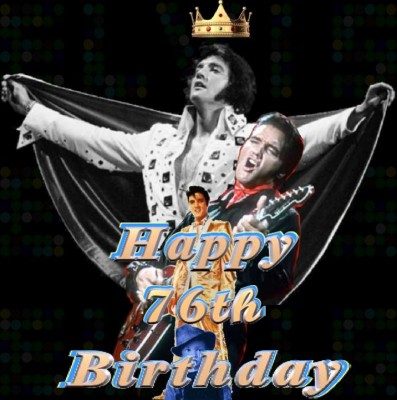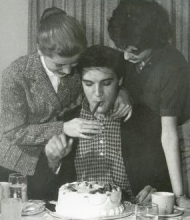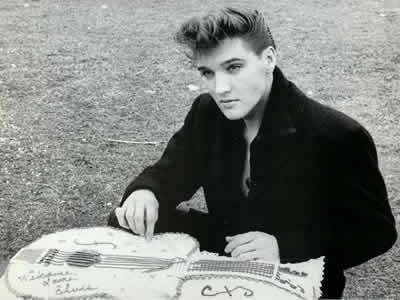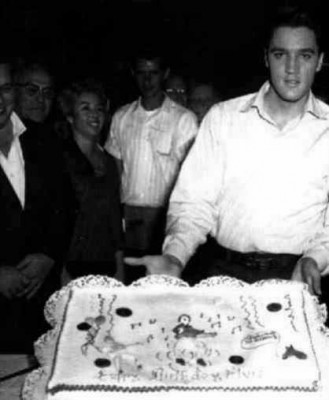 Elvis Birthday – Elvis Presley Birthday
How Elvis celebrate his birthdays throughout his lifetime
Born on January 8, 1935 – Tupelo, Mississippi – Died August 16, 1977 – Graceland, Memphis
1945 – The facts concerning Elvis's first guitar vary. One account claims Elvis bought a $7.75 guitar from the Tupelo Hardware Co.  because he wanted to accompany himself when he sang. Elvis paid for part of his 10th birthday present from money he had earned doing odd jobs around the neighborhood. The owner of the store claims that Elvis was more interested in buying a rifle, but that his mother Gladys feared he would shoot someone or himself. Another story tell of Elvis wish for a new bicycle but could not afford the $55.00 to price tag. And Gladys was concerned that her precious 10 year old could injury himself, even though Elvis could be seen driving his parent to church meetings in a rusted-out truck by the time he could reach the pedals. Together with a local teacher and his uncle Vester Presley Elvis learned to play the instrument.
January 08, 1949 Vernon gave Elvis a paperback book of cartoons by George Price with the inscription: "May your birthday be sprinkled through 'n through with joy and love and good times too, Daddy". Elvis brought this book with him to Germany, but it was left behind in his rented house at 14 Goethestrasse.
1951 –
Elvis' 16th Birthday. Girls were frightened of him because his appearance was so unconventional. Some felt he acted as if he had a nervous disorder while most agreed he had the manners of a hog on heat when Elvis was around the opposite sex.
1953 – Vernon and Gladys paid $50 for a 1952 Lincoln Zephyr coupe which they gave to Elvis on his 18th birthday. With wheels like any other teenager Elvis discovered freedom which scared his mother. Gladys did not know how to drive, so she used the excuse to get Elvis to drive her everywhere.
1954 – Elvis, his mother Gladys and his father Vernon celebrated is birthday singing inspirational songs at their home.
1955 – Elvis performed at the Louisiana Hayride concerts watched by Hank Williams's son, Jimmy Rodgers Snow who reported back to Col Parker that Elvis was provocative, sexy and appealed to all women. (sssh, we already knew that)
1956 – Elvis's 21st birthday was spent on the road going to and from Louisiana Hayride appearances.
1957 – Elvis traveled by train to Hollywood on his 22nd birthday. Scotty Moore, Bill Black & DJ Fontana who co-starred in Loving You, shared a birthday cake that Gladys had baked.

1958 – Elvis was in California to record  his Christmas album.

1959 – Dick Clark's American Bandstand dedicated its program to Elvis 24th birthday. It was the first birthday Elvis ever spent without his mother's well wishes.
1960 – Rumours had it that United Artists wanted Elvis to play the lead role in West Side Story. The Colonel turned it down because the character dies a brutal death.
1961 – Elvis celebrated his 26th birthday with Hope Lang on the set of Wild In The Country. He was in a foul mood because Col Parker insisted he record the title track from the movie which Elvis thought was a non-singing role.
1962 – On his 27th birthday Dick Clark dedicated his broadcast of American Bandstand to Elvis.

1964 – Elvis did not want to celebrate his 29th birthday as he was upset about the way his flagging movie career and became violent at how the critics were panning his movies.

1965 - Elvis celebrated his 30th birthday quietly at home, thought some newspapers printed the news of his 30th birthday like it was the end of an era. However,  two months later Elvis declared in an interview: "I can never forget the longing to be someone. I guess if you are poor you always think bigger and want more than those who have everything." On that day Elvis signed a 3-picture contract with MGM and there was talk of Elvis starring in BABY THE RAIN MUST FALL. However, Steve McQueen got the lead role of Henry Thomas an ex-con who had a band called the Rockabillies. In the film McQueen remarks, "Maybe I'll be a big movie star like Elvis Presley…

January 08, 1966 Elvis celebrated his 31st birthday by attending It's A Mad Mad Mad Mad World at the Memphian. He would continue to watch films almost every night while he was at home. Elvis received a telegram from RCA, declaring: "Your understanding and cooperation made 1965 the biggest of all the ten years you have been with us", what seemed more a statement of hope than of history.

1967 - Marty Lacker, Charlie Hodge and the other members of the Memphis Mafia got together and present Elvis with the Tree Of Life medallion for his 32nd birthday which Elvis often wore.

1968 – When  the honeymoon was over. Elvis just wanted things to stay the same (horsing around with the guys)


January 08, 1969 Elvis celebrated his 34th birthday at Graceland

1970 – Elvis prepared for his next concert tour throughout the States. Elvis was happy to perform before a live audience again. To-date his most successful concert was at New York, Madison Square Garden.

1971 - The day after his 36th birthday Jaycees voted Elvis Ten Outstanding Young Men Of America. The tribute brought tears of joy and was the only award Elvis accepted in person.

January 08, 1972 Joyce Bova came to Memphis for Elvis' birthday.

January 08, 1975 Elvis celebrated his 40th birthday at Graceland. According to the press "in self-imposed seclusion", true or not, Elvis' uncle Vester hadn't seen his nephew since Christmas.

January 08, 1976 Elvis spent the evening of his birthday in a rental home on the slopes of Vail with Jerry Schilling and Myrna Smith. There was a great deal of tension on this vacation, mostly due to Elvis changes of mood and Elvis was not feeling very well this evening until Myrna revealed that she had not seen one of his favorite recent films, Across 110th Street. Elvis recited every line of dialogue from the picture.




Check out 2011 Elvis' Birthday Celebrations:

http://www.elvis.com/events/birthday_celebration.aspx

JANUARY 8TH 2011
Elvis Presley Day Ceremony
9:30 a.m. Front lawn of Graceland. Enjoy a ceremony with Graceland/EPE officials, a birthday cake cutting and a proclamation of Elvis Presley Day by Memphis and Shelby County officials. Free admission. Complimentary birthday cake and coffee served at the Chrome Grille restaurant across the street from the mansion following the ceremony. Not able to be in Memphis? Watch for more information on a special live streaming of the ceremony on Elvis.com.

Live Entertainment in Ticket Pavilion by Terry Mike Jeffrey
10:30 a.m. – 12:30 p.m. Graceland Ticket Pavilion. After enjoying Elvis birthday cake, enjoy live Elvis music performed by Terry Mike Jeffrey inside the ticket pavilion at Graceland. Free.