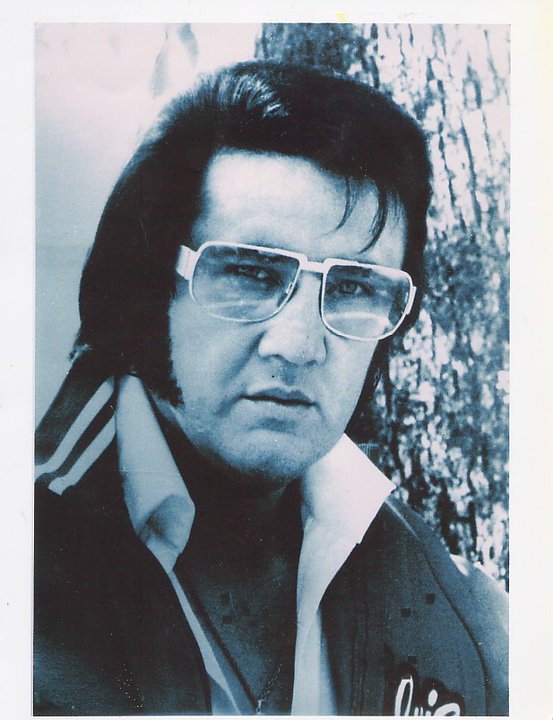 JOHNNY HARRAS FUNERAL WILL BE AT 3PM FRIDAY 4/8/11 AT Laurel Land Funeral Home and Cemetery
7100 Crowley Road
Fort Worth, TX 76134
Phone: (817) 293-1350
If you would like to send flowers there is a florist at the funeral home.
Rembrandt Florist At Laurel Land toll free# 800-863-1461
Local#
817-293-9208
The Magic Of The King Lived In Johnny
The magic of "The King" will always live on thanks to the musical expressions of Johnny Harra. Seeing him in concert is the closest some
generations will ever come to experiencing the magic "Elvis" conveyed to his audiences. Some say "Elvis's" spirit lives on in
Johnny. Ever since Johnny was 11 years old people noticed his uncanny resemblance to "Elvis Presley", from the face, lips,
and hair to his voice and mannerisms. .
Johnny was raised in a religious environment as a son of an Assembly of God minister. His mother played church piano, while
his father traveled with Oral Roberts' tent meetings. Johnny's first love, naturally, became gospel music. At age seven, johnny
began singing solo and with the church choir. Johnny remains very religious, and grateful as "God has opened many doors for me."
"I first became aware of Elvis in 1956 with "Don't Be Cruel" and "Blue Suede Shoes." By the time I was 14 or 15 kids were
calling me "Elvis" at school. I looked a lot like him and everyone I knew loved him." The similarities did not end there. Johnny
was "emulating" the rock and roll singer on stage at school activities and many other events. .
"Johnny Harra is not just another Presley impersonator," claims The Star Newspaper, "his looks, life and family bear a
stunning resemblance to the late rock superstar. Harra and his daughter, Lisa Marie, are almost doubles of Elvis and his daughter
of the same name. Harra's mother could also pass for Elvis' mother, and his ex-wife, Donna, looks remarkably similar to Priscilla
Presley." Johnny simply replies, "I think my family must have a spiritual connection with Elvis' family." .
In concert, whether in Dallas, Las Vegas, or Europe, the Elvis look-alike is met by screaming, emotional fans. Many of his fans
cry (men included) or sit captivated my his look and amazing voice. .
His fans are not the only ones to notice Johnny. Col. Tom Parker chose Johnny Harra to portray Elvis in the Warner Brothers
film, "This Is Elvis." Johnny appears in the movie as Elvis at the end of his career. "I thought it would be an easier job than it
turned out to be," says Harra in a voice nearly identical to Elvis'. "But to enter Graceland and walk up those stairs into his private
quarters was such an emotional experience that it actually put a painful strain on my heart. I felt that Elvis was really at my side."
Johnny's respect and admiration for Elvis is great and he feels it was such an honor to have been chosen to portray a part in the
life story of the man whom he has paid tribute for so many years in the only movie to have the cooperation and blessing of the
Presley family and Elvis' manager, Colonel Tom Parker. Warner Brothers released the movie on dvd, August 10, 2007.
Johnny Harra began touring the American Southwest and Europe to standing-room only crowds. Immediately after the death
of Elvis Presley, Johnny's show at the Gigis Club in Holiday Inn(DFW Airport) started selling out. On August 28, 1977, Johnny
Harra was contracted to headline the KBOX radio station music festival at the Cotton Bowl to a crowd of over 30,000 fans!
Randall Stewart, of Dallas, worked at the festival. Randall says, "nobody was prepared for the crowd's reaction to Johnny Harra".
"Everything was cool, I didn't anticipate any real big deal," Randall said. "But when Johnny came out, I'd never seen anything
like it." A small riot occurred among the women in the audience over a scarf he threw. .
When Johnny helped open Red Bird Mall in Dallas, he set a record for attendance with an estimated 200,000 people.
Johnny Harra was chosen to headline the Continental Theater for the Silver Bird Hotel and Casino in Las Vegas. Night after
night he played to sold out audiences with his amazing "Profiles of Presley" show. The success there lead to an exclusive three year,
six million dollar contract with the Silver Bird in 1978. Where Johnny's band conductor was "Elvis's" own Bobby Morris, who
conducted for Presley from 1969-1973. .
Johnny Harra has been featured in many newspapers and magazines, and on national TV shows like Merv Griffin, Johnny
Carson and Dick Clark. Johnny Harra has traveled internationally performing his "Profiles of Presley" show. Johnny Harra
took a long break to focus on family and raise his daughter Lisa Marie. Now he's back to captivate you and your guests with his
charisma, stage presence, and great singing ability. After 40 years of performing "Elvis" Johnny can perform almost every "Elvis"
song ever released! Johnny tours with his band Music Country USA, and Has been working with Charlie Estepp Entertainment and performed all over the world..Johnny Harra passed away on March 30.2011 In a Dallas Hospital. Johnny Harra was Loved by all and will Live in our Hearts Forever!!!
THERE IS NOW HAVE AN ACCOUNT AT THE FUNERAL HOME SET UP TO TAKE MONEY.HERE IS THE INFO AND JUST TELL THEM ITS FOR THE JOHNNY HARRA FUND. Laurel Land Funeral Home and Cemetery
7100 Crowley Road
Fort Worth, TX 76134
Phone: (817) 293-1350
Below is a link to  Twibbon in memory of Johnny, if you have a Facebook or Myspace page and want to show your love and respect for Johnny, please feel free.
http://twibbon.com/cause/JOHNNY-HARRA-3/facebook
" I personally feel a deep loss for Johnny, we had started a friendship that I had hoped had time to grow, even though that will never be, I cherish the times we spoke and will keep close to my heart the things we talked about about. I am missing him already very much"
http://www.youtube.com/watch?v=WsbrpAjIqJI&feature=related
"THIS IS ELVIS" trailor:
http://www.youtube.com/watch?v=D6e-OXtzdUQ&feature=player_embedded
Johnny's 2010 Christmas Show: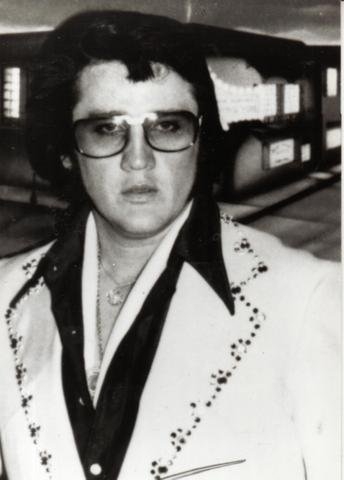 "Johnny is singing with the Angels now", Rest In Peace Johnny!