Elvis has left the building, but his star remains on Hollywood Blvd. For uses other than the original street, see Hollywood Boulevard (disambiguation).
Hollywood Boulevard is a boulevard in Hollywood, Los Angeles, California, United States, beginning at Sunset Boulevard in the east and running northwest to Vermont Avenue, where it straightens out  where it was rededicated Friday after a face lift fit for a King.
"I am happy to welcome Elvis Presley back to the Hollywood Walk Of Fame.
The Hollywood Walk of Fame is a pavement along Hollywood Boulevard and Vine Street in Hollywood, Los Angeles, California, United States, which is embedded with more than 2,000 five-pointed stars featuring the names of not only human celebrities but fictional characters honored by
….. Click the link for more information. with his newly restored star," said Johnny Grant. Johnny Grant is a radio personality, television producer and the honorary mayor of Hollywood, Los Angeles, California, which is an unpaid and unelected ceremonial position with no legal status, given that Hollywood is not a city, but rather a district within the City of Los Angeles.

The Daily News reported Wednesday that Hollywood community activists were all shook up over the poor condition of Walk of Fame stars for many film, TV, radio and music celebrities.
Presley's star near the intersection with Highland Avenue was in particularly poor shape after 38 years of wear and tear, subway construction and memento-hunting fans.
All the more problematic, activists said, because the Presley star is the most visited of all 2,100 stars on the three-mile Walk of Fame and its condition reflected poorly on the entire area.

Grant, who is board chairman for both the Hollywood Chamber of Commerce and the Hollywood Historic Trust, immediately ordered repairs to the Presley star after getting inquiries about it from reporters.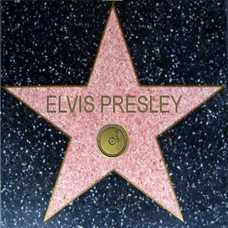 Category: Recording
Unveiled: 06 Dec 1996


Position: 12 tiles from the curb, facing east
GPS location:
34.101421, -118.344942
Notes: Star was unveiled on 02/09/60 but moved to its current location
---