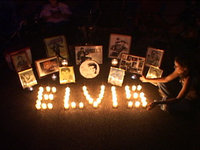 Time

August 15 at 8:30pm – August 16 at 8:30am

---

Location
Elvis Presley's Graceland in Memphis

---

---

More Info
After an opening ceremony at the gates of the Graceland Mansion property, fans are invited to walk up the driveway to Elvis' grave site and back down carrying a candle in quiet remembrance. Free admission. No tickets or reservations. Gates remain open until all who wish to participate in the procession have done so, which typically takes until the early morning hours of August 16, the anniversary date of Elvis' passing. Free secured parking at the Graceland visitor center complex after 6:00 p.m.