"Elvis was a major hero of mine. I was probably stupid enough to believe that having the same birthday as him actually meant something."
— David Bowie
"Describe Elvis Presley? He was the greatest who ever was, is or ever will be."
— Chuck Berry
"I'm sitting in the drive-through and I've got my three girls in the back and this station comes on and it's playing "Jailhouse Rock," the original version, and my girls are jumping up and down, going nuts. I'm looking around at them and they've heard Dad's music all the time and I don't see that out of them."
— Garth Brooks
"Elvis Presley was the first and the best. He is my favorite of all time."
— Bill Clinton
"The highlight of my career? That's easy, Elvis recording one of my songs."
— Bob Dylan
"No-one, but no-one, is his equal, or ever will be. He was, and is supreme."
— Mick Jagger
"He had total love in his eyes when he performed. He was the total androgenous beauty. I would practice Elvis in front of the mirror when I was twelve or thirteen years old."
— K.D. Lang
"When we were kids growing up in Liverpool, all we ever wanted to be was Elvis Presley."
— Paul McCartney
"Elvis is the best ever, the most original. He started the ball rolling for us all. He deserves the recognition."
— Jim Morrison
"He was the firstest with the mostest."
— Roy Orbison
"Elvis epitomised America, and for that we shall be eternally grateful. There will never be anyone else like him. Let's all rejoice in his music."
— Ronald Reagan
"Elvis was God-given, there's no other explanation. A Messiah comes around every few thousand years, and Elvis was it this time."
— Little Richard
"I love his music because he was my generation. But then again, Elvis is everyone's generation, and he always will be."
— Margaret Thatcher
"A Presley picture was the only sure thing in Hollywood."
— Hal Wallis – Producer of nine of Elvis' films.
"A lot of people have accused Elvis of stealing the black man's music, when in fact, almost every black solo entertainer copied his stage mannerisms from Elvis."
— Jackie Wilson
"I thought anyone who had been the centre of all that insanity for so long would have some of it rub off on him. But, after working in Change of Habit with him, I realised I'd never worked with more gentlemanly, kinder man. He's gorgeous.
Mary Tyler Moore
"Elvis was my Idol from the beginning and even today when I'm alone, I'll often put on the King Creole album. He's produced the most exciting pop music sounds of all time"
Cliff Richard
"Elvis Presley is  the main founding father of rock music. He was an unheralded genius behind a new music that changed western civilization for all time."
Peter Noone/Hermans Hermits
"Elvis was a giant and influenced everyone in the business."
Isaac Hayes
'He's a very well-mannered and sensitive person"
Ursula Andress
'There's no way to measure his impact on society or the void that he leaves. He will always be the King of rock 'n' roll.'
Pat Boone
A truly good man who never forgot his friends or his fans.'
Liberace
'The first time I heard his music, back in '54 or '55, I was in a car and I heard the announcer say, "Here's a guy who, when he appears on stage in the South, the girls scream and rush the stage". Then he played 'That's all right, mama'. I thought his name was about the weirdest I'd ever heard. I thought for sure he was a Black guy. Later on I grew my hair like him, imitated his stage act – once I went all over New York looking for a lavender shirt like the one he wore on one of his albums. I felt wonderful when he sang 'Bridge over troubled water', even though it was a touch on the dramatic side – but so was the song. When I first heard Elvis perform "Bridge Over Trouble Water" It was unbelivable,and I thought to myself, how the hell can I compete with that?"
Paul Simon
I owe Elvis my career, and the entire music business owes him it's lifeline.
Cliff Richard
You want me to Describe Elvis, WOW!
Shania Twain
I think Elvis is the sexiest man to ever walk the earth, I love him.
Britney Spears
I didn't like Elvis Presley before I went to work with him. I mean, I didn't know him. I just didn't like his music. I was into black music mostly and jazz so when I went to work for him on the first rehearsal I told my ex-wife, I don't think I'm going to do this gig, but I'm going to go down and check it out..see what's going on.' I came home that night and said, you gotta come down and hear this guy tomorrow night.' She said, you're kidding.'I said, no, you got to come down and hear him.' She came down the next night to the rehearsal and she walked away a fan. It was that immediate. When I walked in and I heard him I said, Oh, oh, I believe that I've been missing somethin
Jerry Scheff, Bass Guitarist

He helped to kill off the influence of me and my contemporaries, but I respect him for that. Because music always has to progress, and no-one could have opened the door to the future like he did.
Bing Crosby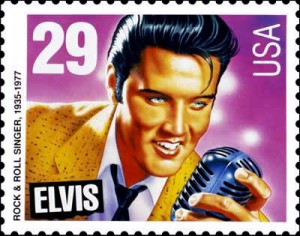 * The Postal Service is being wasteful in spending nearly $300,000 to promote its Elvis Presley stamp. To break even, they would have to sell more than one million stamps to collectors who do not then use them.
o Ralph Nader, a few months before the US Postal Service announced it had made a record breaking US$31 million on the strength of some 120 million unused Elvis stamps, out of the 500 million which were sold, the most for any commemorative stamp in US postal history.

"Elvis is My Man"
–Janis Joplin
"That boy can charm the Birds right out of the trees"
-Richard Egan
"I don't admire nobody but Elvis Presley. He was the sweetest most humble and nicest man you'd ever meet."
Muhammad Ali
«…At Sun Studio in Memphis Elvis Presley called to life what would soon be known as rock and roll with a voice that bore strains of the Grand Ole Opry and Beale Street, of country and the blues. At that moment, he ensured – instinctively, unknowingly – that pop music would never again be as simple as black and white.»
David Fricke
«There are several unbelievable things about Elvis, but the most incredible is his staying power in a world where meteoric careers fade like shooting stars.»
Newsweek
"As a student of the martial arts, Elvis was one of the best. He was physically strong and his technique was excellent. Elvis was a master entertainer and a master showman, but he was also a Master Human Being. He demonstrated love and respect with sincerity and humility. Elvis taught me more than I taught him."
Master Rhee, Elvis' Sensey
"Everyone in rock 'n roll including myself was touched by Elvis 'spirit,I was, and always will be a fan."
Bryan Ferry
"Elvis was the consummate professional. He paid attention to detail and again contrary to popular belief, nothing slippes past him."
Larry Schanpf, Director of Recording Operation
"Elvis was so generous you had to be careful around him. If you said you liked something he'd turn around and give it to you."
Glen D. Hardin, Pianist
"He never raised his voice in the fifteen years that we were around him. He absolutely had a super, super nice attitude. He was really an inspiration to me in that he never..people would come in and say things about him about what he couldn't do or should do, and if I had been the star I would have said, 'I am doing this my way,' but you know, Elvis never said that. It's just unbelieveable..the attitude he took with so many different things. I couldn't believe that he never even raised his voice and got mad about something and stormed out.".
Gordon Stoker of The Jordanaires
With all the controversy about Elvis' drug-taking and his physical condition toward the end of his life, people often forget what a tank he was. Nobody did what Elvis did in Las Vegas. Four weeks, seven days a week, two, sometimes three shows a night. An awesome schedule. But he did it. Those of us who were there now understand that the man was working himself to death. Literally…
Lamar Fike, former member of the Elvis entourage
"You have no idea how great he is, really you don't. You have no comprehension – it's absolutely impossible. I can't tell you why he's so great, but he is. He's sensational."
~ Phil Spector
"I suppose you'd had to call him a lyric baritone, although with exceptionalhigh notes and unexpectedly rich low ones. But what is more important about Elvis Presley is not his vocal range, nor how high, or low it extends, but where its center of gravity is. By that measure, Elvis was all at once a tenor, a baritone and a bass, the most unusual voice I've ever heard"
– Gregory Sandows, Music Professor at Columbia University, published in "The Village Voice".

"He got even more maturity in his voice as he got older; I was often amazed at his range, just as one singer listening to another. He could sing anything. I've never seen such a versality, and in fact I don't see it today. Usually a voice can sing one way, but he had that ability about him, and he helped me to learn the importance of communication with an audience. He had such great soul. He had the ability to make everyone in the audience think that he was singing directly to them. He just had a way with communication that was totally unique"
– Gospel tenor Shawn Nielsen, who backed Presley`s recordings both with the "Imperials" and with the group "Voice", at the studio and in concert, from the late sixties until Presley's death in 1977

"Presley brought an excitement to singing, in part because rock and roll was greeted as his invention, but for other reasons not so widely reflected on: Elvis Presley had the most beautiful singing voice of any human being on earth."
– William F. Buckley, Jr.

"Along with the rest of "Deep Purple", I once had the chance to meet Elvis. For a young singer like me, he was an absolute inspiration. I soaked up what he did like blotting paper. It's the same as being in school — you learn by copying the maestro. His personality was also extremely endearing, his interviews were very self-effacing (and), he came over as gentle and was generous in his praise of others. He had a natural, technical ability, but there was something in the humanity of his voice, and his delivery. Those early records at the Sun Records label are still incredible and the reason is simple: he was the greatest singer that ever lived."
Deep Purple's lead singer and frontman, Ian Gillan, interviewed by Classic Rock magazine, explaining why Presley belongs in the list of rock icons ( as published in blabbermouth.net, on 3rd January, 2007)

"The greatest voice of all time".
– "Q" Magazine Judging panel´s laud of Elvis Presley, from a poll published on their March 4, 2007 issue.

«…if any individual of our time can be said to have changed the world, Elvis Presley is the one. In his wake more than music is different. Nothing and no one looks or sounds the same. His music was the most liberating event of our era because it taught us new possibilities of feeling and perception, new modes of action and appearance, and because it reminded us not only of his greatness, but of our own potential.»
Greil Marcus
>From his book, Mystery Train.
By the time Elvis Presley walked into American Sound Studios in early 1969, guitarist Reggie Young had cut hit songs by the dozens.
Seminal records by the likes of Dusty Springfield ( Dusty in Memphis and its signature tune "Son of a Preacher Man"), Neil Diamond ( Brother Love's Travelling Salvation Show ), B.J. Thomas ("Hooked on a Feeling"), the Box Tops ("The Letter") and numerous others were all part of Young's resume as a member of the American house band, also known as the 827 Thomas Street band after the studio's Memphis address.
"But when Elvis walked in, everybody backed up a little bit," recalls Young, 68, who, like many a Memphian, had first heard the singer on Dewey Phillips's WHBQ-AM radio show "Red, Hot & Blue" back in 1954. The childhood awe crept in all over again. "It was very moving. He had an aura about him. I can't explain it. When he walked in, everybody knew. I was amazed at the reaction I had myself."
BILL ELLIS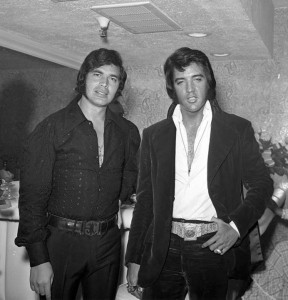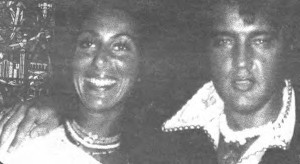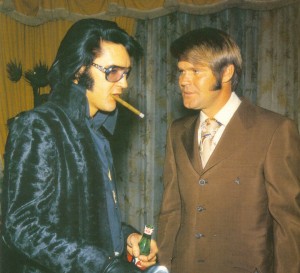 Drake Bell is an award-winning American actor, comedian, guitarist, singer/songwriter, and TV director. Drake Bell is commonly associated with his real-life best friend Josh Peck, who co-starred with him in both The Amanda Show and Drake & Josh. "Growing up I wanted to be Elvis Presley, so I could star in movies and TV while playing music," says Drake.