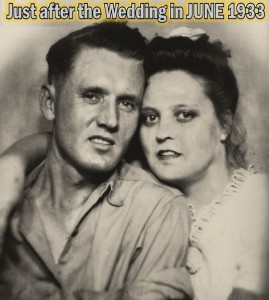 June, 1933 – Gladys Love Smith (04/25/12) and Vernon Elvis Presley (04/10/16) were married.
January 8, 1935 – Elvis is born at 4:35 AM in a two room house in Tupelo, Mississippi. First born twin brother Jesse Garon Presley is stillborn.
January 8, 1946 – Elvis gets his first guitar, a $12.95 model from the Tupelo Hardware Store. Over the next year, Vernon's brother Vester gives Elvis some basic guitar lessons.
September, 1948 – The Presley family moves to Memphis where Elvis enrolls at L.C. Humes High School.
August, 1951 – Elvis tries out for the football team, but is cut when he refuses to trim his hair and sideburns.
April 3, 1953 – Elvis sings and plays the guitar at the Humes High School Annual Minstrel show. The student response was outstanding.
June 3, 1953 – Majoring in Shop, English and History, Elvis graduates from Humes High School. The following day he is hired by the Parker Machinists Shop.
July 18, 1953 – Elvis records "My Happiness" and "That's When Your Heartaches Begin" at the Memphis Recording Service (Sun Studios). The session costs him $4. Staff member Marion Keisker makes a note of his phone number and address to give to Sam Phillips.
September, 1953 – Elvis takes a new job at Precision Tool. In less than a month he moves to Crown Electric, first in the stock room, then starts driving their delivery truck. He decides to become an electrician and studies at night when he is not following the local music scene.
January 4, 1954 – With his delivery truck parked out front, Elvis returns to the Memphis Recording Studio to make an acetate of "Casual Love Affair" and "I'll Never Stand In Your Way". Sam Phillips is impressed, but thinks Elvis still needs a lot of work.
June 26, 1954 – Sam Phillips calls Elvis and invites him to fill in on a demo session after the original singer backed out. The results were not satisfactory, but Phillips likes Presley's effort.
June 27, 1954 – Session guitarist Scotty Moore invites Elvis to his apartment to work on some tunes. Although it doesn't go all that well, Moore tells Sam Phillips that Elvis has potential.
July 5, 1954 – Along with Scotty Moore on guitar and Bill Black on bass, Elvis records "That's All Right" and "Blue Moon of Kentucky". It will later prove to be Elvis' first hit record, selling 20,000 copies.
July 30, 1954 – Elvis makes an appearance at the Overton Park Shell in Memphis and is spotted by Colonel Tom Parker, who was looking for a new client to manage after he was fired by singer Eddie Arnold.
September 4, 1954 – To coincide with the release of his second Sun single, "Good Rockin' Tonight", Elvis, along with Bill Black and Scotty Moore make their first appearance at The Grand Old Opry. Audience reaction is so poor, the Opry's manager, Jim Denny suggests that Elvis go back to driving a truck.
October 16, 1954 – Elvis makes his first appearance on the Louisiana Hayride, a popular country radio show out of Shreveport LA.
October 23, 1954 – "Blue Moon of Kentucky" reaches #3 in New Orleans and #6 in Nashville. It marks the first time that Elvis appears on a Billboard chart outside of Memphis.
November 1954 – Elvis quits his job at Crown Electric to pursue a career in music. He also buys his first Cadillac.
January 1, 1955 – Playing in the band and booking the dates becomes too much for Scotty Moore and Elvis signs with Memphis DJ and manager Bob Neal. Drummer D.J. Fontana quits as the house drummer for The Louisiana Hayride and joins Elvis' band full time.
March 15, 1955 – Elvis buys out his contract on The Louisiana Hayride so he can tour. He would continue to make occasional appearances on the program throughout the year.
March, 1955 – Elvis flies to New York for an audition for Arthur Godfrey's Talent Scouts TV show. Godfrey turns him down flat.
May 1, 1955 – The Blue Moon Boys sign on with Hank Snow's All-Star Jamboree. The month long tour is booked by Snow's manager, Colonel Tom Parker.
May 1955 – Parker is impressed with Elvis and begins to advise Bob Neal about career directions for Elvis, who is now being billed as The Hillbilly Cat.
August 15 1955 – After carefully stalking him for months, Colonel Tom Parker replaces Bob Neal as Elvis' manager. Neal stays on as an advisor, with Elvis paying his 15% commission out of his own pocket.
October 11 1955 – The Elvis Presley Jamboree tour begins in Abilene, Texas. Supporting acts are Johnny Cash, Floyd Cramer, Porter Wagoner, Jimmy Newman, Jean Shepard, Bobby Lord and Wanda Jackson.
November 20, 1955 – Elvis signed his first contract with RCA for an unheard of $40,000. He would see just $5,000, while Tom Parker got the rest.
January 8, 1956 – Elvis turns 21 and the Colonel has him sign a new contract which states that he will earn 25% of Presley's income.
January 27, 1956 – The single, "Heartbreak Hotel" is released.
March 13, 1956 – His first album, titled simply "Elvis Presley", is released by RCA. It will become his first Gold Album.
April 6, 1956 – Elvis signs a movie contract with Hal Wallis and Paramount for three pictures that will pay him $100,000, $150,000, and $200,000 respectively. He also signs a similar two-picture deal with David Weisbart at 20th Century, ensuring that he will be seen in four Hollywood movies before the end of the year.
April 11, 1956 – Elvis receives his first Gold Record for "Heartbreak Hotel".
April 23, 1956 – Elvis makes his first appearance in Las Vegas at the New Frontier Hotel. His reception is poor and the engagement is cut from four weeks to two. He will not do Vegas again for another thirteen years.
July 1, 1956 – Elvis does a parody of himself on Steve Allen's show by singing to a real Bassett hound. Allen's show beats Ed Sullivan in the ratings for the first time.
July 2, 1956 – Ed Sullivan, who once said "I wouldn't have Elvis Presley on my show at any time" calls the Colonel to discuss terms. A three appearance deal for $50,000 is later agreed upon.
July 31, 1956 – A little more than two weeks after its release, "Hound Dog" has sold a million copies.
September 5, 1956 – Elvis surprises his mother Gladys with a Pink Cadillac. The car will remain in the family and is now on display at Graceland.
September 9, 1956 – Elvis makes his first appearance on the Sullivan show. Charles Laughton fills in for an ailing Sullivan. Presley sings "Don't Be Cruel", "Love Me Tender", "Ready Teddy", and "Hound Dog" to an estimated TV audience of 54 million viewers.
October 24, 1956 – Elvis receives a letter from his local draft board concerning his status.
October 28, 1956 – The second Sullivan show features "Don't Be Cruel", "Love Me Tender", "Love Me" and "Hound Dog".
November 21, 1956 – The movie, Love Me Tender opens across the U.S. Reviews are mixed but positive over all.
December 29, 1956 – Billboard Magazine says that Elvis has placed the most songs in their Top 100 since the chart began.
January 6, 1957 – The famous "from the waist up only" Sullivan show airs on CBS. Elvis does a medley, plus "Don't Be Cruel", "Too Much", "When My Blue Moon Turns to Gold" and then closes with "Peace in the Valley".
January 8, 1957 – Elvis is classified as 1-A by the Memphis draft board.
January 1957 – Elvis begins filming his second movie, Loving You. Actress Jana Lund will give Elvis his first screen kiss .
March 9 1957 – Billboard reports that Elvis has sold 12.5 million singles and 2.75 million albums.
March 19, 1957 – Graceland is purchased for slightly over $100,000.
May 13, 1957 – The movie, Jailhouse Rock begins filming.
September 21, 1957 – Scotty Moore and Bill Black quit Elvis' band. Although Elvis has made a fortune, the pair were still being paid peanuts. Drummer D.J. Fontana chooses to stay.
October 29 1957 – After advising Elvis of their "no wiggle" rule, the Los Angeles Police tape his entire concert, looking for a reason to bust him. The show went on without a hitch and the matter is dropped.
December 19, 1957 – Elvis receives his draft notice and is ordered to report in Memphis on January 20.
December 27, 1957 – The draft board grants Elvis a 60 day extension to allow him to film King Creole.
January 20, 1958 – Elvis begins work on his fourth motion picture, King Creole.
March 24, 1958 – Private Elvis Aron Presley (#55310761) is inducted into the U.S. Army at the Memphis Draft Board and boards a bus headed to Fort Chafee, Arkansas for basic training.
June 1, 1958 – Elvis completes basic training and finds a large house in Killeen, Texas where he is joined by his parents and grandmother.
August 14, 1958 – Gladys Presley dies of acute hepatitis. Elvis is unable to see her before she dies.
September 22, 1958 – Elvis boards the USS Randall and sails to Germany, arriving on October 1. He will be stationed in Friedberg for 18 months, maintaining an off-base residence in Bad Nauheim.
December 15, 1958 – Billboard notes a drop in sales of Elvis' records since he joined the army.
Throughout 1959 – Elvis continues to record and appear in person whenever he can while maintaining his military duties.
November 1959 – For the first time since 1954, there are no Elvis records on the U.S. charts. He doesn't seem to care as his attention is focused on 14 year old Priscilla Ann Beaulieu, the step-daughter of recently transferred Air Force Captain Joseph Beaulieu.
January 20 1960 – Elvis is promoted to Sergeant and is given command of a reconnaissance unit for the 3rd Armor. His officers say that Elvis is a good soldier and has conducted himself well.
March 2, 1960 – Elvis and 79 other soldiers board a military plane bound for McGuire AFB in New Jersey.
March 5, 1960 – Elvis is officially discharged from military service and collects his final army paycheck – $9.81.
March 20, 1960 – Back in RCA Studios in Nashville, Elvis records "Stuck On You".
March 21, 1960 – Presley receives his first degree black belt.
April 26, 1960 – He begins work on his first post-army movie, his fifth film, GI Blues.
May 8, 1960 – Elvis appears on Frank Sinatra's variety show and was paid a staggering $125,000.
July 3, 1960 – Vernon Presley marries divorcee and mother of three sons, Davada (Dee) Stanley, an American whom he met in Germany. They live at Graceland briefly, but they later move to a home nearby.
August 6, 1960 – After a riot in the East German town of Chemnitz, the government declares Elvis to be "an enemy of the people" and recommend that he not come there.
December 2, 1960 – Despite having a long list of casual girlfriends, Elvis now says that he and Priscilla are meant for each other and invites her to spend the holidays in Memphis.
December 8, 1960 – Priscilla arrives at Graceland.
January 18, 1961 – Elvis signs a five year contract with movie producer Hal Wallis to make one picture a year.
March 25, 1961 – Elvis appears at the Bloch Arena at Pearl Harbor to raise money for the USS Arizona Memorial to be completed the following year.
April, 1961 – He remains in Hawaii thru mid-April filming Blue Hawaii.
April 21, 1962 – "Good Luck Charm" reaches Billboard's top spot. Elvis won't have another chart topping record until 1969.
October 1962 – After long negotiations with her father, Priscilla joins the King in Memphis. She is to finish high school and live with Vernon and Dee in their house which is just off of Graceland property.
January 28, 1963 – Production starts on one of his most popular films, Fun In Acapulco.
October 1963 – Elvis makes his fifteenth motion picture, Kissin' Cousins.
January 1964 – Elvis purchases the Potomac, the former presidential yacht of Franklin Roosevelt. He tries to give the boat to The March Of Dimes and The U.S. Coast Guard, but both turn it down because it is not safe. St. Judes Children's Hospital finally accepts it, but it will sink in 1981.
March 1964 – He begins filming for his sixteenth motion picture, Roustabout.
June 17, 1964 – With the British Invasion in full swing, Viva Las Vegas opens to mixed reviews.
October 12, 1964 – Work starts on the movie Tickle Me, which contains no new songs.
March 15, 1965 – Filming begins on Harem Scarum
May 23, 1965 – Filming starts for Frankie and Johnny, which will take only three weeks to complete.
August 1965 – Principal photography begins for Paradise, Hawaiian Style.
August 27, 1965 – The Beatles visit with Elvis for several hours at his home in California and have an informal jam session, which sadly, is not recorded.
January 3, 1966 – RCA announces that Elvis' total record sales now stands at 78 million.
January 30, 1966 – Work begins on movie #22, Spinout.
March 13, 1966 – Colonel Parker confirms a UPI report that says Elvis is the highest paid entertainer in the world and the highest single taxpayer in the United States.
September 12, 1966 – Principal photography begins for the film Easy Come, Easy Go.
November 23, 1966 – Spinout opens to mixed reviews.
December 25, 1966 – Elvis announces his engagement to Priscilla in front of family and close friends.
February 1967 – Elvis buys the Circle G, a 163-acre ranch in Mississippi, minutes across the Tennessee state line from Graceland.
March 5, 1967 – Elvis heads to Hollywood to film Clambake for United Artists.
March 8, 1967 – RCA releases Elvis' second gospel album, "How Great Thou Art". It will win Elvis his first Grammy award.
March 22, 1967 – Easy Come, Easy Go opens to generally favorable reviews.
May 1, 1967 – Elvis married Priscilla in a small, private ceremony at the Aladdin Hotel in Las Vegas. A press conference and breakfast reception follow. Then the couple honeymooned for a few days in Palm Springs.
May 29, 1967 – Elvis and Priscilla dress in their wedding clothes and have a second wedding reception in the trophy room at Graceland to include their family and friends who were not in Las Vegas for the wedding.
June 26, 1967 – Shooting begins for the film Speedway.
July 13, 1967 – Priscilla's pregnancy is announced.
September 19, 1967 – Elvis gets into a fist fight with a Graceland groundskeeper. No charges were filed.
October 9, 1967 – Filming begins for the movie Stay Away, Joe.
November 22, 1967 – Clambake opens to dismal reviews, but still pays off at the box office.
February 1, 1968 – Nine months to the day of their wedding, Priscilla gives birth to Lisa Marie Presley. She weighs six pounds, fourteen ounces.
March 8, 1968 – Stay Away, Joe opens and once again critics hate it, fans love it.
March 11, 1968 – Elvis begins shooting Live A Little, Love A Little.
May 25, 1968 – Elvis shows up at the Karate Tournament of Champions in Honolulu. It's his first meeting with Mike Stone.
June 27 1968 – Taping begins for an NBC television special Elvis, which is commonly called the '68 Comeback Special. The King is nervous, but the fans still love him.
July 22, 1968 – Filming starts for movie #29, Charro!
September 6, 1968 – Presley family members receive two phone calls saying that Elvis has died in a plane crash in Kentucky.
October 13, 1968 – Elvis goes back to Los Angeles to shoot The Trouble With Girls.
November 30, 1968 – "If I Can Dream" reaches #12 on the Billboard chart, higher than any other single since 1965.
December 3, 1968 – The TV special Elvis airs on NBC. Ratings are huge and reviews are favorable.
December 21, 1968 – The soundtrack to the Elvis special reaches the Billboard Hot 200, where it will stay for the next 32 weeks. It will be Elvis' first Top Ten album in nearly three years.
January 13, 1969 – Elvis records some of his best work ever. Returning to Memphis, he produces four hits which will be released in late '69 and early '70. They are "In the Ghetto", "Suspicious Minds", "Don't Cry, Daddy" and "Kentucky Rain".
March 7, 1969 – Elvis begins filming Change of Habit, which will be his last acting role in a motion picture.
March 13, 1969 – Charro opens to mostly bad reviews.
May 3, 1969 – "In The Ghetto" becomes his first Top Ten single since "Crying In The Chapel" in 1965.
June 14, 1969 – The album "Elvis In Memphis" reaches the Billboard album chart where it will enjoy a 34 week run, topping out at #13.
July 12, 1969 – Elvis appears on the cover of Rolling Stone Magazine.
July 31 – August 28, 1969 – The King of Rock and Roll performs the now famous four-week, fifty-seven show engagement at the International Hotel in Las Vegas. Total attendance is over 100,000 and the gross is $1,530,000.
November 1, 1969 – "Suspicious Minds" becomes Elvis' first number one single since "Good Luck Charm" in 1962.
January – February 1970 – He's back at the International Hotel where he breaks his own attendance records during Las Vegas' slow season.
February 27 – March 1, 1970 – Elvis gives six performances at the Houston Astrodome. Although plagued by acoustic problems, the shows are wildly popular, drawing 207,494 people.
August 10, 1970 – He's back in Las Vegas for a month long engagement at The International.
August 26, 1970 – Elvis is threatened with kidnapping when someone calls Colonel Parker's office and says Presley will be abducted sometime during the weekend. Security is tightened, but nothing happens.
September 9, 1970 – Elvis goes on tour for the first time since 1958.
October 11, 1970 – Elvis is sworn in as a Special Deputy Sheriff of Bel Air, California. He carries his badge around in his briefcase.
December 19, 1970 – In a bizarre chain of events, Elvis buys a ticket at Memphis International Airport under the name of John Burroughs and boards a commercial flight to Washington D.C. After checking into the Washington Hotel he leaves almost immediately and takes the next flight to Los Angeles where he meets up with Jerry Schilling and Sonny West. The three return to Washington D.C. where they go to the White House and request a meeting with President Richard Nixon. In the oval office, Elvis asks the President for a federal narcotics agent badge and I.D., which Nixon arranges. After Elvis is sworn in, he returns to Memphis on a chartered jet.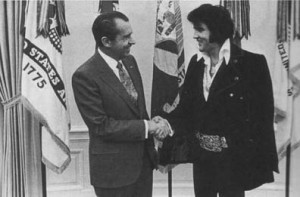 December 30, 1970 – Elvis returns to Washington D.C. and tours F.B.I. headquarters.
January 16, 1971 – Elvis accepts accept the honor of being named One of the Ten Outstanding Young Men of the Nation by the United States Junior Chamber of Commerce (The Jaycees). Elvis spends late January and early February in Las Vegas at another month-long engagement at the International Hotel.
June 10, 1971 – Elvis' two room birthplace in Tupelo is opened to the public. A stretch of Highway 51 South, which runs past Graceland, is renamed Elvis Presley Boulevard. More recording in Nashville, mostly for the gospel album "He Touched Me", which will win Elvis his second Grammy Award.
July – August 1971 – He performs a two-week engagement at the Sahara Hotel in Lake Tahoe, Nevada.
August 9 – September 6, 1971 – Elvis breaks his own attendance records at the International Hotel, which has been renamed the Las Vegas Hilton International Hotel. Elvis now has a 5 year contract with the Hilton to appear twice a year.
November 5 to 16, 1971 – Elvis goes on a 12-city concert tour. It will be his first tour with J.D. Sumner and The Stamps Quartet.
January 8, 1972 – Elvis announces that Priscilla has moved out, taking Lisa Marie with her.
January 26 to February 23, 1972. – Elvis goes back to the Hilton in Vegas for more shows.
February 23, 1972 – Priscilla informs Elvis that she intends to file for divorce.
March and April 1972 – A crew films Elvis on and off stage during his 15-city concert tour. The footage is part of the documentary, Elvis on Tour, which recoups its production costs after only three days in theatres and grabs a Golden Globe Award for Best Documentary.
June 9 – 11, 1972 – Entertainment history is made as Elvis, in advance, sells out all four engagements at Madison Square Garden. Among the 80,000 attendees were John Lennon, George Harrison, David Bowie, Bob Dylan and Art Garfunkel.
August 4, 1972 – Elvis goes back to the Hilton, but he is in a foul mood and puts in a series of weak performances.
August 18, 1972 – Elvis files for divorce, citing "irreconcilable differences". Priscilla does not contest.
November 1, 1972 – The film Elvis On Tour opens to mixed reviews, but fans flock to theatres.
November 16, 1972 – Elvis ends a seven city tour in Honolulu, Hawaii.
January 14, 1973 – Aloha from Hawaii is taped at Honolulu International Center Arena. It will be seen by nearly 1.5 billion people.
January 26 to February 23, 1973 – Back in Las Vegas at the Hilton.
March 1973 – saying that "the old songs don't sell anymore", Colonel Parker sells the royalty rights on the entire Elvis' recording catalogue up to that point to RCA – 700 songs for somewhere between two and three million dollars. A good deal for the Colonel, but bad for Elvis and his heirs who could have enjoyed a lifetime income off of those songs.
October 9, 1973 – Elvis and Priscilla appear in court and their divorce is granted. Although she has custody of Lisa Marie, Elvis will remain close to both mother and daughter.
October 12, 1973 – Elvis returns to Memphis, angry and upset, but trying to appear happy.
December 25, 1974 – During his first Christmas without Priscilla and Lisa Marie, Elvis is depressed and spends days in his room. Presents go unopened.
January and February 1974 – Elvis is back at the Hilton.
March 1974 – Elvis tours for most of the month, including an attendance breaking repeat performance at the Houston Astrodome. He appears in Memphis for the first time since 1961. Another live album is produced, "Elvis Recorded Live On Stage in Memphis", from the two day, four show engagement. Included is a live performance of "How Great Thou Art" that will go on to win a Grammy award. Surprisingly, all of Elvis' Grammys are for gospel songs.
May 10, 1974 – A tour of the Western United States kicks off and lasts until the end of the month.
June 15, 1974 – After a short rest, Elvis starts another tour of the country, receiving standing ovations from sell out crowds.
August 19, 1974 – Elvis opens in Las Vegas looking trim and fit. He introduces a host of new material, but audience reaction is not favorable. It's not the Elvis they came to see. The next night, the show returns to the old format.
August 29, 1974 – At the early show, Elvis receives his eighth degree black belt. He is dressed in full karate garb and demonstrates his moves during the performance.
September thru October, 1974 – The tour continues through the central United States.
December 25, 1974 – Elvis spends a quiet Christmas at Graceland after trying unsuccessfully to talk Priscilla into spending the Holidays with him and the rest of the family.
January 8, 1975 – Elvis Presley turns 40. His weight is ballooning and he is edgy and difficult to be around. His close friends are concerned about the pills that are his constant companions.
January 29, 1975 – He is admitted to Baptist Memorial Hospital for tests.
February 5, 1975 – Vernon Presley suffers a major heart attack and is admitted to the same hospital as his son.
February 14,, 1975 – Elvis is released from the hospital and returns to Graceland.
March 18, 1975 – Elvis opens the newly refurbished Hilton Hotel in Las Vegas for a two week engagement.
April 24, 1975 – The spring tour kicks off in Macon, Georgia where over 10,000 fans watch a tired and overweight Elvis give the fans his best effort.
June 16, 1975 – Eye trouble puts Elvis in the hospital over night.
July 8, 1975 – The third tour of the year opens in Oklahoma City with over 15,000 attending.
August 18, 1975 – While opening a two week engagement in Las Vegas, Elvis seems distracted and has trouble remembering lyrics. Sweating profusely, he sits down and lets his band take over for a few numbers.
August 20, 1975 – Elvis' midnight show slips into a series of giggles and laughter after two water pistols are tossed on stage. The band doesn't know what to do and the Memphis Mafia takes Elvis back to his room. The next day he is flown to Baptist Memorial Hospital in Memphis.
September 5, 1975 – Elvis is released from hospital and returns to Graceland. Over time, he regains his good spirits and resumes his karate regiment.
December 2, 1975 – Elvis returns to the Las Vegas Hilton to make up for the canceled dates in August. He is clearheaded and the engagement is a success.
December 31, 1975 – Elvis performs a special New Year's Eve concert in Pontiac, Michigan and sets a single performance attendance record of 62,500.
February 2, 1976 – RCA will haul tons of mobile recording equipment to Graceland. A week of recording in the den will produce an album "From Elvis Presley Boulevard, Memphis, Tennessee". The album will go to #1 on the U.S. Country charts.
March 17, 1976 – The first tour of the year begins in Johnson City, Tennessee.
July 13, 1976 – Without warning and with Elvis out of town, Vernon Presley fires longtime bodyguards Red West, Sonny West and David Hebler, who had been with Elvis for many years. They suspect they are let go because of their efforts to confront Elvis about his drug use.
October 30, 1976 – With Elvis in Aspen, his girl friend Linda Thompson packs her belongings and moves out of Graceland. By the end of the month Elvis has a new flame, Ginger Alden, who will be with him until his death.
November 23, 1976 – In a bizarre incident, Jerry Lee Lewis is arrested at the gates of Graceland for being drunk and carrying a concealed revolver.
December 2 – 12, 1976 – Elvis makes his last appearance at the Las Vegas Hilton.
December 31, 1976 – Elvis performs a special New Year's Eve performance in Pittsburgh PA.
January 22, 1977 – Elvis flies to Nashville for a recording session, but the next day fails to show up. The day after he returns to Memphis, leaving behind furious musicians and record executives.
February, 1977 – In a last ditch effort to get Elvis to record, RCA comes to Graceland. The musicians wait in their motel rooms for a call that never comes. Elvis says he's too ill to record and remains in his bedroom. It will be RCA's last attempt to record Elvis in a studio.
February 12, 1977 – Elvis rallies enough to start his first tour of the year in Hollywood, Florida.
March 3, 1977 – In front of Linda Thompson and bodyguard Charlie Hodge, Elvis makes out his will.
March 4, 1977 – With over 30 people in tow, Elvis heads to Hawaii. The trip is cut short after a week when Vernon suffers a heart attack.
March 23, 1977 – The latest tour begins in Phoenix.
March 31, 1977 – The final show of the tour is cancelled when Elvis fails to show up. Instead, he took a plane back to Graceland with Dr. George Nichopoulos.
April 1 to 15 1977 – He is again hospitalized and some shows have to be cancelled.
April 21, 1977 – Rested and ready, Elvis sets out on his third tour of the year. For the first time in recent memory, not all of the shows sell out.
May 20, 1977 – After a short rest at Graceland, the tour continues.
May 29, 1977 – In front of a packed house in Baltimore, Elvis falls down on stage during the concert. The press report the incident widely the next day.
June 19, 20, 21 1977 – Shows are recorded by RCA and videotaped by CBS-TV for a live album and television special.
June 26, 1977 – The concert at Indianapolis, Indiana's Market Square Arena will be Elvis' last.
August 1, 1977 – Three former bodyguards publish Elvis: What Happened? which details Elvis' drug use for the first time in public.
August 14, 1977 – With just three days left before he was to begin another tour, Elvis begins another crash diet, eating large quantities of fruit and drinking plenty of water.
August 15, 1977 – Elvis is seen in public for the last time when he and Ginger Alden cruise through Memphis on his Harley.
August 16, 1977 – Returning to Graceland and unable to sleep, Elvis takes another dose of medication and tries to read. He finally takes a copy of The Face Of Jesus into his dressing room / bathroom. Ginger tells him not to fall asleep and he replies "OK, I won't." Shortly after 2 PM Ginger awakes and when she realizes that Elvis is not in bed, she knocks on the bathroom door. When he doesn't answer, she looks in to see Elvis curled up in a fetal position on the floor near the toilet. Ginger calls downstairs and Joe Esposito and Al Strada come running. They find Elvis with no color and no apparent signs of breathing. The fire department is called and ambulances rush to the scene. Elvis is taken to Baptist Hospital where he is pronounced dead at 3:30 PM.
August 16, 1977 – Upon hearing of Elvis' death, Colonel Tom Parker makes two phone calls. The first was to Vernon Presley, the second to an Elvis merchandiser, Factors Inc.
August 17, 1977 – Colonel Tom Parker meets with executives from RCA Records, urging them to run their pressing plants 24 hours a day, to meet the upcoming demand for Elvis' music. Only after business is taken care of, does he head to Graceland.
August 17, 1977 – Elvis' body is returned to Graceland where he will lie in state for one day. 75,000 people are waiting to pay their respects, but by the time the gates are closed again at 6:30, only 20,000 had viewed the body. As a soft rain began to fall, the rest of the crowd left quietly.
August 18, 1977 – Elvis' funeral is held in Memphis. The pallbearers are Lamar Fike, Charlie Hodge, Gene Smith, George Klein, Joe Esposito, Billy Smith, Jerry Schilling and the man that some say over-prescribed Elvis' medication, Dr. George Nichopoulos. Col Tom Parker turned down the honor. The King is buried at Forest Hill Cemetery.
October 2, 1977 – To control the crowds of mourners, the bodies of Elvis and his mother are moved to Graceland.
June 26, 1979 – Vernon Presley passes away. New executors of Elvis's estate are named by the court. They are Priscilla, Elvis' accountant Joe Hanks and the Memphis National Bank of Commerce, acting for Lisa Marie.
August 14, 1981 – Judge Joseph Evans orders that Elvis' estate does not have to make any more payments to Col. Tom Parker, ending his 36 year hold on much of the king's finances.
May 29, 1989 – Lisa Marie and her husband Danny Keough, whom she married on October 3rd, 1988, announce the birth of Elvis' first grandchild, a girl named Danielle Riley Keough.
October 21, 1992 – Elvis' grandson, Benjamin Storm Keough is born to Lisa Marie and Danny.
May 6, 1994 – Lisa Marie and Danny Keough are divorced.
May 26, 1994 – Lisa Marie marries Michael Jackson.
July 1995 – Elvis' personal physician, Dr. George Nichopoulous, loses his medical license for being "too liberal" in prescribing addictive drugs.
January 29, 1996 – Lisa Marie files for divorce from Michael Jackson.
January 21, 1997 – Col. Tom Parker passes away at the age of 87.
2002 – Graceland takes in $15 million in annual admissions alone, with sales of Elvis' records and souvenirs topping $37 million.
June 16, 2002 – Elvis was back at No. 1 on the UK singles chart for the first time since "Way Down" hit the top shortly after his death, with a remix of his 1968 track "A Little Less Conversation". It's Presley's 18th UK No. 1, moving him ahead of the Beatles, who have 17.
August 10th, 2002 – After proposing just ten days earlier, actor Nicolas Cage marries Lisa Marie in an outdoor wedding at the Mauna Lai Bay Hotel on the Big Island of Hawaii. After 108 days of marriage, he files for divorce.
December 17 2004 – Elvis Presley's daughter Lisa Marie Presley agreed to sell 85% of his estate to businessman Robert FX Sillerman in a deal worth $100 million. Sillerman will run Presley's Memphis home Graceland, will own Elvis' name and likeness, the rights to his photographs and revenue from his music and films. Lisa Marie will retain possession of Graceland and many of her father's "personal effects".
January 9, 2005 – "Jailhouse Rock" entered the UK singles chart at #1, the day after the King would have turned 70 years old. The song became the 999th #1 in the history of the British chart, having also been the 67th in January 1958, when it was the first disc to enter the survey at #1.
January 22, 2006 – Lisa Marie is married for the fourth time to music producer Michael Lockwood. Michael's best man was Lisa Marie's first husband, Danny Keough.
October 7, 2008 – Lisa Marie and Michael became the proud parents of twin daughters named Finley and Harper.
October 28, 2008 – Forbes.com ranks Elvis as the top-earning dead celebrity for the second year in a row. Presley pulled in $52 million in the past year, helped by increased visitors to his Graceland estate to commemorate the 30th anniversary of his death.
---
Led Zeppelin were big fans of Elvis and were desperate to meet him when they toured the US. In 1973, the longed-for meeting came to pass, when Robert Plant and John Paul Jones met the King in Los Angeles. The Zeppelins were rendered speechless by the meeting, but Elvis broke the ice by swapping his $5,000 gold and diamond watch for Jones's watch – which featured a picture of Mickey Mouse. From that moment on, any member of Led Zeppelin was welcome in the front row of an Elvis concert.
Elvis is in the Rock-N-Roll Hall of Fame, Country Hall of Fame, and the Gospel Hall of Fame as well.
He won 3 Grammy awards.
Elvis made the very first music video, it was Jailhouse Rock
Ever the ardent spiritualist, Elvis died reading one of his favorite books: The Scientific Search For The Face Of Jesus by Frank Adams. The King had specifically requested it a few weeks earlier, having heard that it proved the authenticity of the Shroud of Turin, said to be Jesus' burial wrapping.
Elvis was known to rent out Memphis' Memphian theater — all of it! — so that he could watch private screenings of new films with his entourage. And he apparently had great taste in films, too: his favorites, in chronological order, were The Ten Commandments, Rebel Without A Cause, Dr. Strangelove, The Pink Panther and Dirty Harry movies, and The French Connection. His all-time favorite, however, may have been Patton, starring George C. Scott; he memorized every line of it and could repeat it at will. And his Dirty Harry fixation led directly to his purchase of a .44 Magnum.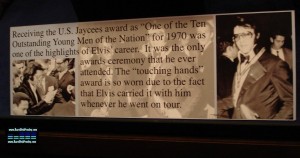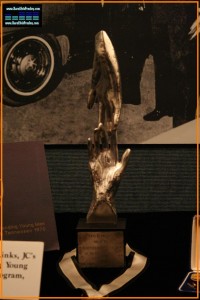 Grammy Awards

1959
A Fool Such As I – Record Of The Year
A Big Hunk O' Love – Best Rhythm And Blues Performances
For LP Fans Only – Best Album Cover
1960
Are You Lonesome Tonight – Records Of The Year, Best Pop Song, Best Performance And Best Vocal Performances
G.I. Blues – Best Soundtrack Album And Best Male Performances
1961
Blue Hawaii – Best Sountrack Album
1967
How Great Thou Art – Best Gospel Album – Winner
1968
You'll Never Walk Alone – Best Gospel Song
1969
In The ghetto – Best Song
1972
He Touched Me – Best Gospel Album – Winner
1974
How Great Thou Art (Live) – Best Gospel Performances – Winner
1978
Softly As I Leave You – Best Country Performances
1980
Elvis Aron Presley – Best LP Box-set
1993
The King Of Rock'n'Roll – Best Historical Album, Best Package And Best Liner notes
1994
From Nashville To Memphis – Best Liner Notes
Various Awards
Lifetime Achievement Award (Bing Crosby Award 1971)
One Of The Ten Outstanding Young Men Of America (1971)
Grammy Hall Of Fame Winner (Hound Dog)
Grammy Hall Of Fame Winner (Heartbreak Hotel)
Golden Globe Winner (Best Documentary Of 1972 "Elvis On Tour")