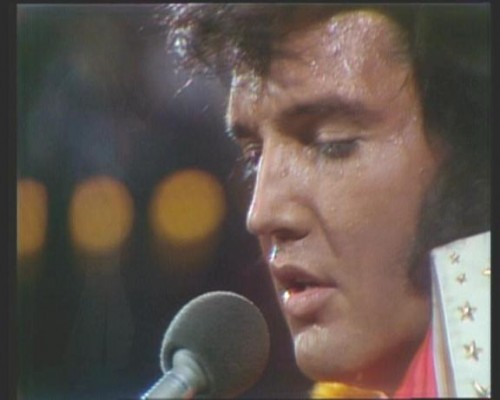 Elvis is amazing. After all these years he touches people lives, saves them, guides them gives them hope! We all owe this man so much………..Elvis is Love……..he is another messiah to me!
Chilean miner Edison Pena's love of Elvis Presley's music has led to an invitation to visit the singer's home.
STORY HIGHLIGHTS
The company that runs Graceland invited Edison Pena to Memphis
Pena, a die-hard Elvis fan, led fellow miners in Elvis sing-alongs
Elvis Presley Enterprises sent music to Pena while he was trapped
(CNN) — A special invitation to visit Elvis Presley's Memphis, Tennessee, home awaited Edison Pena when he emerged from the San Jose mine Wednesday after more than two months below ground.
Pena, a die-hard Elvis fan, led his fellow trapped miners in Elvis sing-alongs to pass time while waiting for their rescue.
"A trip to Graceland in Memphis could be just the escape he needs after such a long period of time underground," said Kevin Kern, the spokesman for Elvis Presley Enterprises.
The company and the Memphis Convention and Visitors Bureau has offered Pena an all-expenses-paid trip for two, Kern said.
Pena, the 12th miner to be rescued, looked fit and exuberant as he emerged Wednesday.
"He's just a true blue Elvis fan," Kern said. "I can only imagine that Graceland would be the trip of a lifetime."
Kern suggested the best time for Pena's visit would be after Christmas decorations go up "inside and out" at Graceland on November 19. They stay up until Presley's birthday on January 8, he said.
"He's welcome to come whenever he feels up to it," Kern said.
He would stay in luxury at the historic Peabody Hotel — known for its trained ducks — in downtown Memphis, he said.
Pena would "experience everything Elvis, but also soak up some local culture," Kern said. The city is also known for its barbecue and the role it played in the birth of the blues, soul and rock 'n' roll, he said.
Elvis Presley Enterprises sent Elvis music to Chile that was passed on to Pena underground, he said.
"He's been listening to Elvis songs while running in the mine," he said.
A mining consultant involved in the rescue effort told CNN that Pena jogged an hour a day up and down some 2.5 kilometers of tunnels that were safely accessible.
http://www.youtube.com/watch?v=WqBbk7PNGpw&feature=related