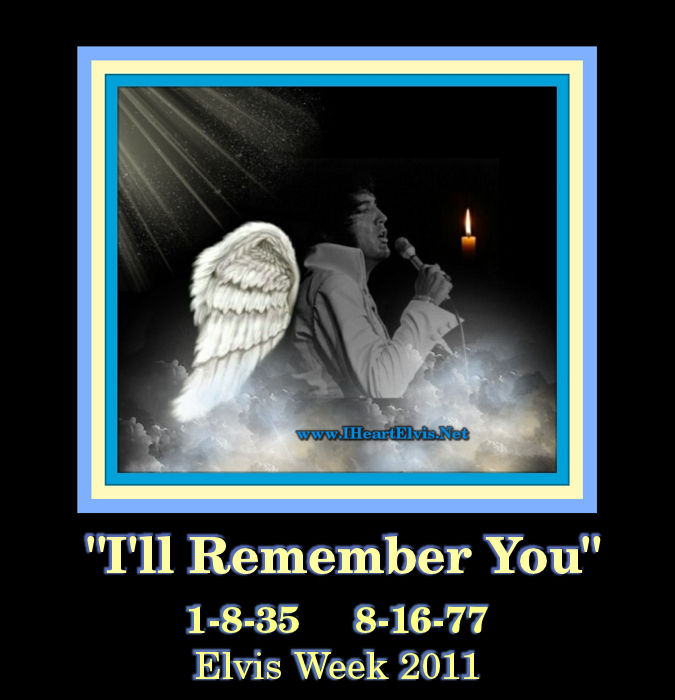 Elvis Week 2011 will feature a variety of exciting events with special guests who will share their memories of the King of Rock 'n' Roll. In honor of this, five new rare photos of Elvis with guests John Wilkinson, DJ Fontana, George Klein, and Elvis' Imperials.
ON AUGUST 14
Elvis' Imperials
The Imperials worked with Elvis on stage and in the recording studio from 1969 until 1971, beginning with his triumphant 1969 Las Vegas engagement. A highlight of their collaboration with him was the 1971 recording of "He Touched Me," an album that earned Elvis his second Grammy Award. The group, in its various membership incarnations, has released over forty albums with fourteen of their songs hitting number one. They have racked up 12 Grammy Awards and 13 of the gospel field's Dove Awards.
Soul City
Gospel quartet Soul City hails from the First Assembly of God in Memphis, which was Elvis' home church for many years. Soul City members are Corey Riggs, Ben Kirk, Bob Geabhart and David Wootton. The group was a huge hit during their performance at the 2011 Elvis Presley Car Show at Graceland.
Keri Ring
Keri has been singing most of her life. The Nashville native has performed with Southern gospel groups such as The Senators Quartet and The Downings. She also has had the privilege of doing studio work for various country and gospel artists. Currently, Keri is a soloist and member of the Christ Church Choir in Nashville.
On Stage With Terry Mike Jefferey ON AUGUST 14
Terry Mike Jeffrey
Terry Mike Jeffrey is a singer, Emmy-nominated songwriter, entertainer, musical director, arranger and actor. He was born in Paducah, Kentucky, and was singing on stage by the age of 3. Throughout childhood, Terry Mike mastered the guitar, piano, sax, and drums. He has received critical praise from the New York Times and has appeared on NBC's Today Show, CBS This Morning, CNN's Showbiz Today and Live with Regis and Kathie Lee.
Jamie Aaron Kelley
Jamie Aaron Kelley is an internationally-touring performer, award-winning songwriter, producer, actor and voice-over artist. Jamie has sold out shows in Japan, Atlantic City, The Netherlands and Canada. Having released five CDs on his independent record label, both volumes of "The Sun Also Rises" received nominations for Best Rockabilly Album from the JPF Independant Music Awards, and "You're Mine Tonight", written by Jamie, won for "Best Rockabilly Song of 2006."
Brad Birkedahl
Since guitarist and vocalist Brad Birkedahl arrived in Memphis in the 90's, he has performed nightly for thousands of fans. He has traveled around the world, sharing the stage with musical legends such as Carl Perkins, Wanda Jackson, James Burton, The Stray Cats and D.J. Fontana. Brad has performed for presidents and prime ministers. He also played the role of Scotty Moore in the Johnny Cash biopic "Walk the Line
On Stage With Andy Childs:ON AUGUST 15

Andy Childs
Andy began performing at a local amusement park as a teenager, then graduated to nightclubs and lounges to help pay his way through school at the University of Memphis. After years of perseverance, Andy was signed by Sony to record a 'development' project. He soon caught the attention of RCA Records who offered Andy a full-blown recording contract. Andy has opened for Faith Hill, Martina McBride, Clint Black, Tanya Tucker, and many other top country stars.
Gavin Kelly
Gavin, an IMASTAR Records recording artist, moved from California to Nashville in 1993. He was a contestant on Season 3 of CMT's "Nashville Star" and has been writing and recording for the last 10 years. Gavin has released several country singles and is currently working on his debut album. His first single came out earlier this year, a patriotic song called "In America". It was played on the Conman Radio Show that goes out to 80 million listeners across the globe.
Lori Anderson
At age 7, Indiana native Lori Anderson started singing for friends and never stopped. Lori followed her dreams on to RCA Studios in Nashville in the 1990s. After a decade of ups and downs in the music business, Lori released her debut album, "Goodbye Town," through IMASTAR Records and had six songs from it reach the radio airwaves. The song "One Door Open" spawned her first music video. It was entered into the GAC Star where it rose to the #1 spot in a competition with over 20,000 views.
Victor Trevino Jr.
Victor Trevino Jr.'s dream of a career in music and acting has been realized in his tribute to Elvis Presley. Even though he loves all eras of Elvis' music, Victor specializes in the rockabilly '50s and '60s genre, recreating the excitement of the king's wilder years. Victor has performed his tribute for 3 years and strives to maintain a respectful image of Elvis for current fans of the king and new fans to come.
Elvis Week Giveaways at Peabody Hotel Rooftop Party
Celebrate Elvis Week at the Peabody's Rooftop Party on Thursday, August 11! The event will have a Memphis theme, complete with giveaways from Graceland. The Bo-Keys and Delta Collective will be performing with special guest Andy Grammer. A buffet of favorite Memphis foods, including barbeque, will also be available.
The party is from 6:00 p.m. – 11:00 p.m. The cover charge is $15 and includes one drink. Details for all Elvis Week events go to www.Elvis.com
An Elvis Week bonus for Elvis Insiders Those attending the Official Elvis Insiders Event on Saturday, August 13 will receive a limited edition CD single of "Bossa Nova Baby" from Viva Elvis: The Album. The song is being featured in a new Heineken TV commercial now airing in Ireland.
The Official Elvis Insiders Event, which is sold out, will take place aboard the Memphis Queen III Riverboat. Insiders will go rollin' on the Mississippi River, enjoying light hors d'oeuvres, dancing, Elvis music, and a beautiful view of the Memphis skyline.