I found this article, its interesting to read, Im not sure what I feel about this.
Let me know what you think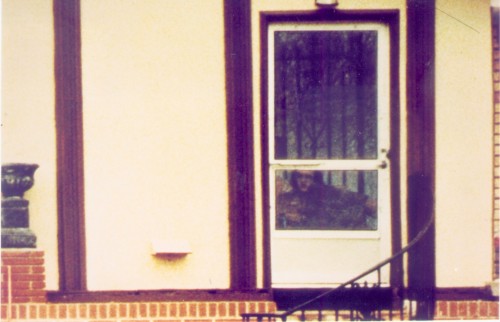 ELVIS: DEAD OR ALIVE ?
1. Elvis' name is misspelled on his tombstone. Elvis' full name is Elvis 'Aron' Presley…, not Elvis 'Aaron' Presley. His father would not have let this happen. When Elvis was born, his name was misspelled on his birth certificate and his father went to great lengths to get the error corrected. The spelling of Elvis' name was very important to the Presley family. They wanted Elvis to see that Aron was part of Garon (Garon is the middle name of Elvis' twin brother that was stillborn). Why the misspelling on the tombstone? Some say it is because Elvis did not want to tempt fate.
2. Elvis' current resting place is in between his father and his grandmother and not next to his mother where he had adamantly requested. It is doubtful that the people close to him would allow these things to happen. Elvis is a superstitious man – enough so that he wouldn't tempt fate by putting his real name on a tombstone, or violate the ground next to his mother until he was ready to be placed there for good.
3. Elvis was very vain, and he was embarrassed about his recent weight gain – An astonishing 50 pounds in the month before his so-called death. Even though he weighed 250 pounds at the time of his death, his death certificate lists him at a spry 170 pounds. The original death certificate disappeared, and the current death certificate is dated two months after his alleged death.
4. Elvis' coffin required several pall bearers because it weighed 900 pounds. Attendants at the funeral reported that the air around the coffin was rather cool. It is suspected that the coffin contained an air conditioning unit or dry ice to keep a wax body cool. A wax body that was a replica of Elvis designed to fool funeral- goers. And how did the Presley family get a 900 pound, custom made coffin ready for the showing of the body that was held on the day after his death? It takes a lot of time to build such an elaborate coffin. Alanna Nash, formerly of the Louisville Courier-Journal, who viewed the body in the casket twice, commented on how wax-like it looked. La Costa, sister of Tanya Tucker, said, "We were right up to the casket and stood there, and God, I couldn't believe it. He looked just like a piece of plastic laying there. He didn't look like Elvis at all… He looked more like a dummy than a real person."
5. And why have the funeral so quickly? Some speculate that the immediacy was intended to make it as difficult as possible for the people who were Elvis' biggest fans (heads of fan clubs, etc.) to attend the proceedings. It could be a concern that they might recognize the flaws in the wax replica…, many of which were noticed anyway.
6. Elvis was an 8th degree black belt whose hands were rough with calluses, yet the body in the coffin had hands that were soft and pudgy. The body in the coffin had a pug nose and arched eyebrows (unlike Elvis) and most importantly, one of the sideburns on the corpse was loose and falling off. A hairdresser later reported gluing the sideburn back on the body.
7. Two hours after Elvis' death was announced publicly, a man who reportedly looked remarkably like Elvis purchased a ticket for Buenos Aeries, paid in cash, and used the name John Burrows: the name Elvis had used as an alias several times before.
8. He had a few books that were considered to be his most prized possessions. He had a Bible, several pharmaceutical books, books on death, and most importantly Cheiro's Book of Numbers and the Autobiography of a Yogi. After his death was announced, these books disappeared and were never recovered. Also missing were specific pieces of jewelry and pictures of his mother.
9. In the weeks preceding his alleged death, Elvis' actions were not those of a man who was about to embark on an extensive US tour. He ordered no new suits despite having gained 50 pounds since his last tour.
10. Elvis fired several employees that he had relied upon for a long time.
11. Two days before his alleged death, Elvis telephoned a friend of his named Miss Foster (Elvis had been friends with her for a long time because she reminded him of his mother). He told her that he wasn't planning on going on the upcoming tour. She asked him if he had canceled it, and he said that he had not. When she asked if he was ill, he said that he was fine, and that she should not ask any more questions or tell anyone anything, and that she should not believe anything she reads. He told her that his troubles would all soon be over, and that he would call her in a few weeks. The author of 'Elvis Where Are You?' writes that Miss Foster took a polygraph test regarding this story, and that she was not lying.
12. The day after Elvis' alleged death, a woman named Lucy De Barbon, a former lover of Elvis', received a single rose in the mail. The card indicated that the flower was from "El Lancelot". This had been her pet name for Elvis, and it was a name that no one else knew. Flowers can't be sent from beyond the grave.
13. Elvis had many reasons to fake his death. Elvis' life was in danger. He had recently lost $1,300,000 in an airplane/real estate deal with a California based organization called the "Fraternity" that had links to the Mafia. It is speculated that he corroborated with the government to expose the organized crime ring in exchange for protection – perhaps in the form of a new life and identity compliments of the witness relocation program.
14. Elvis was a prisoner of his own fame. He had many other reasons to leave his life behind. Because of his incredible popularity, he was the recipient of several death threats, and he was concerned about the safety of his ex-wife and daughter. Sometimes when he wanted to leave Graceland, he would send out look-alikes to distract would be followers. Elvis was also known to ride in the trunk of someone else's car to avoid detection.
15. Elvis had the means to fake his own death. He is accused of destroying himself with drugs. In reality, Elvis was a pharmaceutical expert. He took a lot of drugs, but he knew what he was doing and was extremely careful. He knew what drugs he could self- administer to create a deathlike state. Further, Elvis' experience with the martial arts was such that he could slow his heart rate and breathing in order to feign death.  He was an eighth degree black belt.
16. Elvis' manager, Colonel Tom Parker, had once created a new identity for himself. He came to this country as an illegal immigrant from Holland, but through various connections managed to create an elaborate identity complete with a passport, birth certificate, drivers' license, and social security number. He would have known how to give Elvis a second life.
17. Elvis' Lloyds of London life insurance policy still has not been cashed in. Why? It is not illegal to fake your death as long as you don't profit from it.
18. There was a helicopter hovering over Graceland just moments before Elvis was found dead. Did Elvis get on that helicopter? Did the helicopter drop off another body to take Elvis' place? Monte Nicholson, a veteran with the Los Angeles Sheriff's Dept., writes in his novel The Presley Arrangement about a government helicopter hovering over Graceland, and finally landing in the back. Nicholson was informed there were pictures of Elvis getting on the helicopter during the early afternoon of August 16. Others report seeing a helicopter – including Larry Geller in his book If I Can Dream: Elvis' Own Story, who says he saw from his window at Howard Johnson's: helicopters hovering over Graceland.
19. According to handwriting experts, Elvis' own handwriting was on his death certificate/coroners report.
20. Some of Elvis' closest friends were asked, by Vernon, not to attend the funeral.
21. Elvis' father refused to have his son's coffin draped with the American flag, traditionally given to all dead veterans. Did he know that the coffin did not contain his son's body?
22. In December 1970, Elvis was inducted into the Drug Enforcement Agency (DEA) by President Nixon. Elvis had just been awarded one of America's Ten Outstanding Young Men for his efforts to wipe out drugs. Elvis went undercover for the DEA and helped put one of America's largest crime rings behind bars. This particular undercover operation was coded 'Operation Fountain Pen'. Was Elvis really addicted to drugs…, or was he the ultimate actor after all? The U.S. Department of Justice's Federal Bureau of Investigation in Washington confirmed in a letter to Maria Columbus, president of The Elvis Special fan club, that Presley visited FBI headquarters on December 31, 1970 and was given a tour of FBI facilities. Two months prior to meeting with President Nixon, Elvis was presented with a CNOA Membership Certificate that reads: This is to certify that Elvis A. Presley is a member in good standing of the California Narcotics Officers Association. Once when Elvis was on stage, he wanted to prove to the audience that he was not strung out on drugs like everyone said he was. He then displayed a certificate to the audience and said, "This if from the International Narcotics Enforcement Association. This Certificate gives me special honors and a lifelong membership. I've been wearing a federal narcotics badge for six years. They don't give you that if you're strung out." One of the fan letters states that several police uniforms were delivered to Graceland on August 15, 1977.
23. The Elvis estate demanded that no cameras be brought to the funeral.
24. One month prior to August 1977…, $1,000,000.00 was withdrawn from his personal checking account.
25. The medical examiner's report says that the body was found in the bathroom in a rigor-mortised condition. The homicide report says that the body was found in the bedroom 'unconscious'.
26. What about the tape – authenticated – that was sent to a top voice-identification expert, on which Elvis talked about things that did not occur before August 1977?
27. What about the mind-boggling picture taken in the poolhouse behind Graceland's Meditation Gardens four months after the death of Presley and showing a man seated who looked exactly like Elvis? Mike Joseph took this photograph in January 1978 while on vacation and visiting Meditation Gardens. There is an audio recording of Mike Joseph stating that the person in that photograph is Elvis. Later, after a meeting with Joe Esposito and Al Strada, he changed his story. Now he says that he never stated that it was Elvis in the photograph even though he was recorded as saying it was.
28. "I may not look good tonight, but I'll look good in my coffin," said Presley on his last concert tour, 1977. At a different time he said, "I know I look fat now and I'll look terrible for my TV special coming up. But I'll tell you this: I'll look good in my casket."
29. "If I should return you would not recognize me" is underlined in one of Elvis' favorite books.
30. In 'Elvis, My Brother', Billy Stanley noted that Elvis was wearing a jogging suit with the DEA logo during the early morning hours of August 16, 1977.
31. There are 663 FBI pages on Elvis, much of the material consists of files dated after August 1977.
32. Phone records show that Ginger Alden, Elvis' girlfriend at the time of his alleged death, phoned the National Enquirer one to three hours before calling downstairs for help when she found Elvis in the bathroom floor. How did she know to call them one to three hours before there was anything to call about? Did she know that there was going to be a body in there later in the day?
33. What about the sightings, many by very credible people?
34. Elvis believed that he was chosen by God for something special. He thought he had special powers like, hands-on-healing. I think he may have had some special gifts other than his voice. Elvis was always studying about religion. He didn't want to take any chances when it came to getting into the Kingdom of Heaven. One of his favorite books, which you will find on display at Graceland now, was The Passover Plot by Hugh Schonfield in 1966. The book is a story of how Jesus may have faked his death and came back 16 years later instead of being resurrected. Elvis may have faked his death and given up all worldly possessions in an effort to make it into the Kingdom of Heaven. Elvis once mentioned to a friend that he would like to become a Monk. After August 16, 1977, a man dressed as a Monk went into a popular entertainment club. Another customer reported that the face under the hood looked remarkably like Elvis Presley. As it turns out, the club was owned by a good friend of Elvis'.
35. There were orders by the Presley Estate that no cameras be brought to the funeral. However, one of Elvis' relatives, Bobby Mann, managed to sneak one in. The picture he took appeared on the front of the National Enquirer. It is evident in the picture that it is not Elvis Presley.
36. Elvis was pronounced dead at 2:56 PM. Between that time and when the body was viewed the next day, there seemed to be enough time to do all of the following: Autopsy and embalming were completed, the body was back at Memphis Funeral Home around 8:00 PM, sixteen white limousines were ordered, a white Cadillac hearse was readied, a specially designed casket was ordered and flown in, a casket blanket of 500 red roses was made, the security and police were ordered, the tour was canceled, personal calls were made by Vernon to fan club presidents asking that they not attend, clothing was chosen, songs were chosen, ministers contacted, the procession planned, and the body was put on private display by 11:30 the next morning.
37. Dee Presley, Elvis' stepmother, said she received a call from someone sounding like Elvis, saying things only Elvis knew.
38. A picture taken September 23, 1984 shows Muhammad Ali, Reverend Jesse Jackson, and what appears to be Elvis Presley. When Muhammad Ali was in Fort Worth, Texas, toward the end of 1989, promoting his cologne, two people showed him the picture. As reported by the Fort Worth Star-Telegram, Ali identified the man in the picture with him as "My friend Elvis." Also, in late 1989, a lady showed the picture to Elvis' step-brother, Billy Stanley. Billy pointed the man out as being Elvis Presley. He said he wanted a copy of the picture to put on his office wall to prove that Elvis was not a racist.
39. Priscilla made wildly contradictory statements about where she was on the night of Elvis' death.  Elvis' road manager let it slip that he was worried about Priscilla and daughterLisa Marie at Graceland after Elvis' death — a time period when Priscilla was SUPPOSED to be in Los Angeles.
40.  Joe Esposito said, on the Geraldo show June 18, 1990, "In the first place, how can hecommit suicide?  He's living in Kalamazoo, Michigan."
March 4, 1977
Elvis' last leisure trip with friends.  Friends stated that Elvis acted unusually…, as if he were saying goodbye.
June 26, 1977
Elvis' last concert in Indianapolis.
July 26, 1977
The F.B.I. signalled that the investigation into Frederick Peter Pro had enough evidence to go to the grand jury. (Operation Fountain Pen)
Early August
Elvis desperately tried to contact President Carter to discuss some urgent personal business.
August 15, 1977
U.S. Attorney, Michael Coty, advised the F.B.I. that his office was ready to go before the grand jury with the Operation Fountain Pen case.
August 16, 1977
Elvis Presley was reported dead at Graceland.
October 18, 1977
Four members of "The Fraternity" – including Frederick Peter Pro – were arrested in connection with the Presley case where they had conned Vernon Presley out of more than $1,000,000.00 in 1976 on the sale of one of Elvis' airplanes.
December 31, 1977
Shortly after Meditation Gardens was opened to the public…, Mike Joseph took his family there while on vacation.  While there, they snapped a few pictures.  After returning home and developing the film…, Mike noticed someone sitting inside the doorway of Graceland out by the swimming pool.  After blowing this picture up and examining…, it was discovered that the person in the picture looked very much like Elvis.
1981
The president of the oldest Elvis fan club received an audio cassette from Steven Chansis.  The cassette contained a telephone conversation of Elvis speaking with someone about what he has been up to since faking his death.  He made the statement that he has been growing beards and such in an effort to hide.
The man in the famous pool house photo was the late Mr Johnny Harra, he passed away last year March 30th 2011. He was also the majority of all the Elvis sightings over the years, if youre interested in knowing more about Mr Harra, please visit his official site: