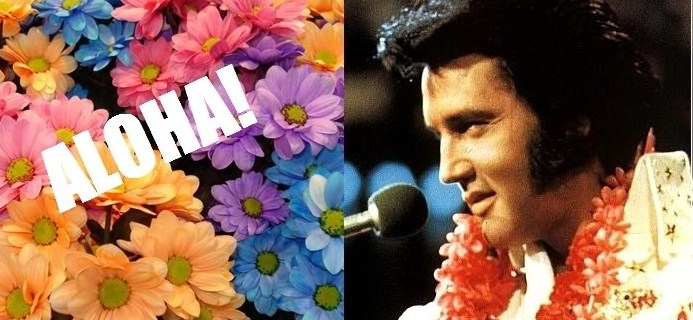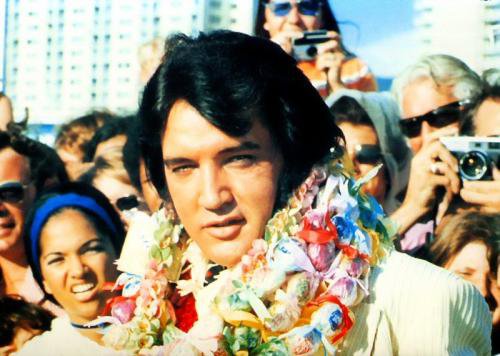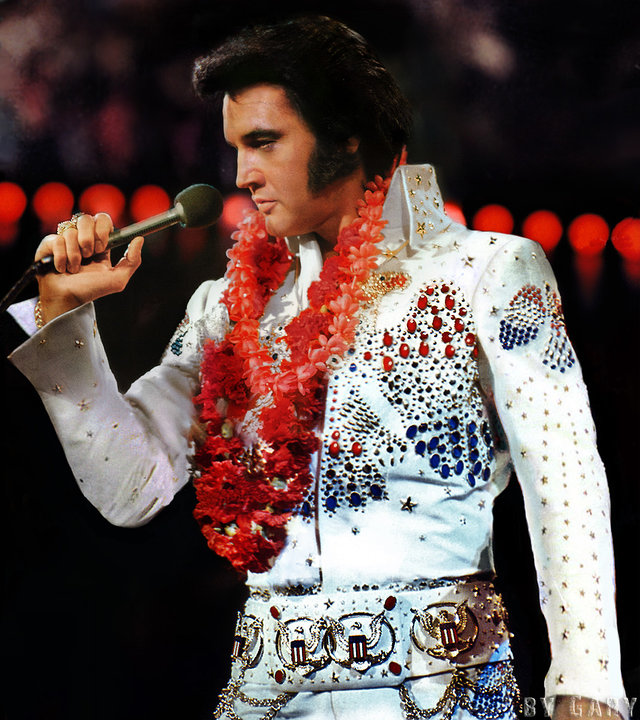 Parts of Aloha Via Satellite:
http://www.youtube.com/watch?v=6Yt3wuD-CsY&p=BF510F02BCC7D496&playnext=1&index=9
http://www.youtube.com/watch?v=9wzuS4-jtt0&p=BF510F02BCC7D496&playnext=1&index=10
http://www.youtube.com/watch?v=o7qtfgWM3wQ&p=BF510F02BCC7D496&playnext=1&index=11
http://www.youtube.com/watch?v=T_cG2nFcrKg&feature=related
http://www.youtube.com/watch?v=FYQKE1HSWDI&feature=related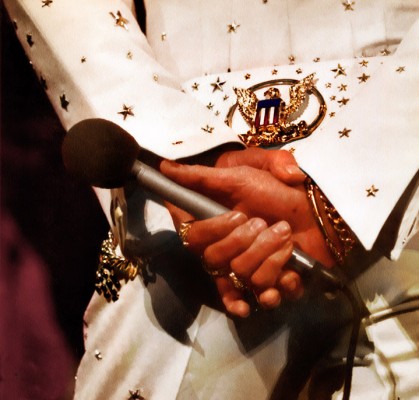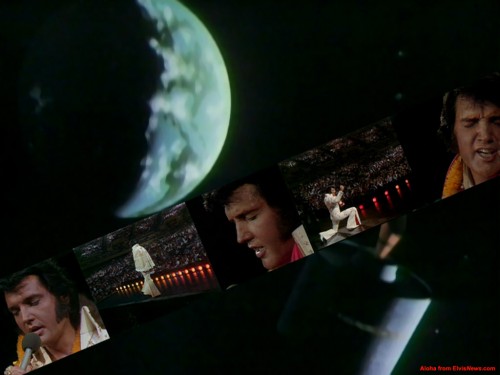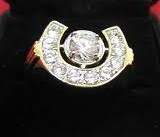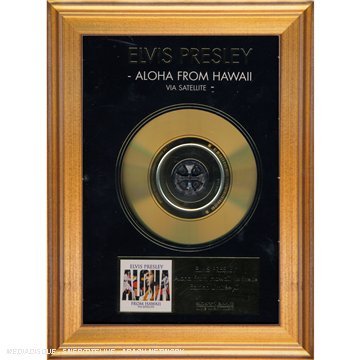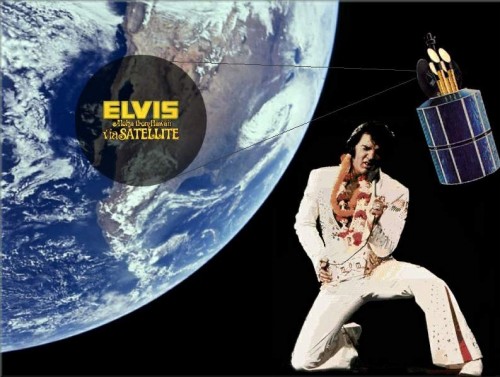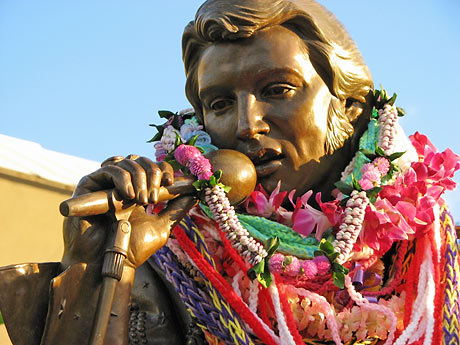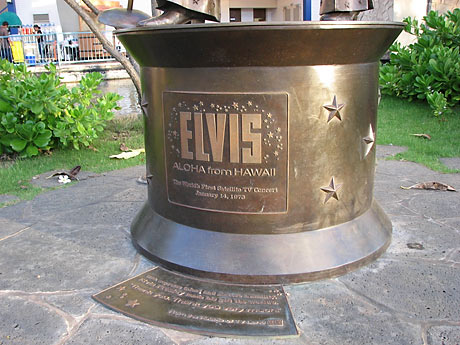 Aloha From Hawaii Via Satellite
Elvis Presley
RCA 6089
Released: February 1973
Chart Peak: #1
Weeks Charted: 52
Certified Double Platinum: 5/20/88
My God! Another live album from my hero. He's turning them out as fast as he once made movie soundtracks. And with as little point, in view of the fact that the material, pattern, structure and sound vary so little from record to record. On the other hand, they sell better than his current studio albums, and those haven't exactly been aesthetic triumphs, so maybe there is some logic to it.
Just the same, "Suspicious Minds" has been released live from Las Vegas, Madison Square Garden and Hawaii and not one of these versions comes close to the sheer artistry of the Memphis studio original. The live "Burning Love" is a mockery of Elvis' best single since "Suspicious Minds." The "American Trilogy," El's version of Mickey Newbury's simple but effective blending of "Dixie," "All My Trials" and "The Battle Hymn of the Republic" doesn't generate anything near the power of actually seeing him do it.
In the enjoyable documentary Elvis On Tour he turns his performance into a visual drama. By contrast, the live recording magnifies the worst element of Elvis' stage show — the simplistic horn arrangements, poorly performed — while the film magnifies the depth of Elvis' commitment to the music.
I usually enjoy hearing him do the ballad staples he became identified with during the movie phase, especially the by-now haunting "Can't Help Falling in Love," with which he closes each concert (and here given its worst recording yet). But when he strays into the pure Caesar's Palace repertory that includes "What Now My Love," "You Gave Me a Mountain," and "My Way," depression crosses over the line into disgust.
As usual, Elvis tries his hand with some recently popular chart material; thus, a mediocre "Something," and a bloated "Steamroller Blues," only partially salvaged by some elegant James Burton lead guitar. The band is impersonal but astoundingly tight and professional throughout.
Charlie Gillett once noted that in his early records Elvis sang at the top of his vocal range but that soon after the move to RCA he started singing lower. The high notes were the mark of an innocently beautiful approach to rock & roll singing, the bass ones more symptomatic of his penchant for self-mockery. And on this album he seldom crawls past the middle register at all, a sure sign of what he's thinking about himself.
There are moments when he pushes past every fault of the format and generates not just smoke but fire — as on a rousing "See See Rider." But it is his good moments more than the bad ones that remind me of Greil Marcus' comment that Elvis Presley's whole career has been a throwaway. Albums like this one prove he was right. It is just that when I hear in the smallest ray of hope — like the interplay between Presley's voice, Burton's guitar, and Ronny Tutt's drums on "Rider" — that I remember that there isn't a reason in the world why he couldn't make an album that was good from beginning to end. Does he have to throw it all away?
– Jon Landau, Rolling Stone, 3/29/73.
Bonus Reviews!
Although he is perhaps one of the world's greatest music legends, Presley proceeds to slay an audience with more guts and more soul and more intensity vocally than any performer alive. His shows are not only a production, but a musical "happening." And this live recording, which offers eight tunes previously unrecorded by Elvis, is not only a historical event because of the satellite broadcast and the U.S. TV special of the Hawaiian performance, but because Elvis, a focus point in the origin of rock, is perhaps back, cooking again like he seldom has in the past several years. Only on a couple of the tunes does he fail to exhibit that "spirit" for which he paved the way. Best cuts: "My Way," "What Now My Love," and a sparkling version of "Fever."
– Billboard, 1973.
This was Elvis Presley's most celebrated live performance, viewed by over a billion people worldwide via satellite. It includes "C.C. Rider," "Burnin' Love," "Early Morning Rain," "Love Me," "Fever," "Big Hunk of Love," and 24 more.
– Roundup Newsletter
The live shows that Elvis Presley threw himself into from the end of the 1960s after an eight-year concert sabbatical reached critical mass in January 1973 when he played an hour-long set at Honolulu International Center Arena, raising $75,000 in aid of Hawaii's best-known composer, Kui Lee. Not only did he perform for an auditorium audience of thousands, in something of a technological breakthrough for the time the concert was also broadcast by satellite to an estimated one billion people around the world.
By the time the show took place, RCA had already received advance orders for millions of copies of the accompanying double album. When it was released a month later, Aloha From Hawaii became Presley's first album since 1964's Roustabout to top the US Hot 100, replacing Pink Floyd's Dark Side Of The Moon before making way a week later for Led Zeppelin's Houses Of The Holy.
The recording captures Presley at his live peak, playing vintage favourites such as "Hound Dog" and "Blue Suede Shoes" alongside more contemporary hits like "Burning Love."
As of 2004, Aloha From Hawaii was the #47 best-selling album of the 70s.
– Hamish Champ, The 100 Best-Selling Albums of the 70s, 2004.