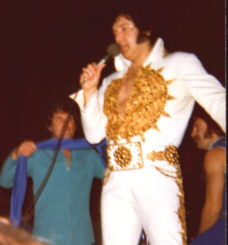 This is the Concert that I was able to see and get so close to Elvis right after the show

In the book ELVIS AARON PRESLEY by Alana Nash on page 700, Billy Smiths says, "We were getting ready for the tour in March (1977), and he didn't look like he could make it". They were supposed to leave Graceland that night and nurse Tish Henley was outside stating that Elvis should be in hospital. Billy goes on to say, "All the way to the airport, Elvis sat slumped with his hat over his eyes. He didn't say anything. Then when he got on the plane, he was just groggy, slurring his words. We thought, "This is one time he really won't make it". And when we got to the dressing room there at the coliseum, I said to Jo (Billy's wife), "There aint no way". Then right before he stepped out on stage, he stopped and looked at us and said, "You didn't think I'd make it did you?" And he put on a hell of a show. It is interesting to note that this is the only tour Elvis did not have a girlfriend accompany him. This in fact may explain his "sluggish" behaviour and sudden "awakening" at show time. In other words, I wonder if he was simply sulking because Ginger Alden was not touring with him.
The sound level of this audience recording is a little low but the quality is quite clear. It is apparent that the recordist is a fair way from the stage judging by the sound.
The recording begins a second or two after the start of 2001 so only one or two bars are missed. Near the tape recorder is a group of young people who are very excited about seeing Elvis. Towards the end of 2001 the girls screams Elvis' name.
The opening riff tears through the audience like thunder, and the hysteria heard is unbelievable. These girls are having hissies! There is an easy thirty seconds of simple rhythm from the band after the trumpets die down. A strong "Oh Seeeee" heralds the start of SEE SEE RIDER. The crowd erupts. As Elvis stands back from the microphone for James' instrumental the girls scream. Elvis starts singing the words repeating them three fold, "And and and I I I wont wont wont.." as Ronnies rapid bass drum beats drive the song along. The drumming so far is excellent.
Wild applause greets Elvis as he addresses his fans. "Thank you very much".
"Oh god" a woman moans. "E-L-V-I-S" her friend screams.
"We're sorry to keep you but we got lost" Elvis tells the fans. "We really did" he assures them.
"Wellllllllllllllll" Elvis sings. He is sounding great so far this concert! Elvis sings another "well" causing the audience to scream. Perhaps he turned around to the fans behind him.
"Well well well wellllllllllll" is echoed by James' guitar licks as J.D Sumner ends the routine with a deep "Welllllllllllllll".
The girls scream with delight as Elvis takes off like a late freight with I GOT A WOMAN/AMEN, the whole while different sections of the audience scream with excitement. Amen has a slight false start as one girl screams, "Over here Elvis! Over here!" Amen receives an enthusiastic performance from Elvis. The girls near the tape recorder are providing a wonderful insight to what it was like to be at an Elvis concert. The same woman screams, "Over hear Elvis! Oh you know it"! Elvis begins his strip routine and the girls scream with every bump and grind. Elvis giggles as one of the screaming girls says, "Oh you hunk"
"Ok, we'll try it this time all at one time" Elvis says. His legs begin to roll, his guitar bouncing off his hip causing flash reflections off his guitar from the spot lights to shine in the fans' faces.
"You're not getting old Elvis you're getting better" another lady screams. Ronnie's drums thunder through the arena. The girls scream together "Oh my God" as Elvis really lets loose which encourages the rest of the TCB band to join in with the music.
"Oh Elvis" one girls says with sincerity in her voice.
Elvis steps back out of the spotlight as J.D does his dive bomb impression causing more admiring comments to be directed at Elvis.
"Over here Elvis" she says trying to fight J.D's booming bass voice.
"He can do better than that ladies & gentlemen. Arrh, he's the world's lowest bass singer so listen to him this time".
"Oh you hunk" the young lady says quite loudly for all to hear.
Elvis sings a short but fast rendition of Amen. In the background the lady that is most prominent is with her husband/boyfriend who is recording the show. Some of what he is saying can be heard, like, "We can get the whole thing if we can get the recorder over here". "Ok, go ahead" she replies sounding like this guy can do whatever he likes as long as he doesn't get in her way!
"You're on your own son" Elvis says as J.D reprises his impression.
"Oh Elvis" she says yet again.
Elvis finally ends the song to an extremely long drum beat ending indicating that he is in fine form for tonight's performance. Obviously Elvis is directing Ronnie Tutt's drum finale with his guitar, but this takes approximately fifteen seconds to conclude before Elvis throws his guitar over his right shoulder to Charlie Hodge.
"Good job! Can you hear"? Elvis asks as the sound is adjusted. Elvis holds the microphone down to a woman who asks him if he could sing some songs which the titles of are inaudible.
"This is a request night tonight, folks". The crowd applaud however they can tell from Elvis' tone he is kidding. The girl by the recorder screams out, "Puppet on a String"
"You got the words to that? Arhh, I'd like to say it's a pleasure to be here and I hope you enjoy the show. We're gonna try to entertain you" "Oh you know it" a girl says.
"And we're gonna go here, and back here, and over here, and up there". Elvis continues. The thought of Elvis visiting their side of the arena causes a minor volcanic eruption of hysteria. "So just enjoy yourself and we're gonna try to do all the songs you wanna hear". By now James has queued Elvis several times to start LOVE ME. One must listen to this recording to appreciate the mania sweeping the audience during this song. It is a crowd favorite, and Elvis rings every scream he can out of the song. This version has similar qualities to the March 20, 1974 version, and several more times the "tape recorder lady" screams "Over here Elvis"! As if he could hear her, but it's worth a try, right? Love Me has a strong bluesy ending .
"You're a good audience. Thank you very much. Arrrh.I'll tell you what we'll do. Let's do.."
"Puppet on a String" the girls screams at the top of her lungs. I bet Elvis hadn't heard that song title for about twelve years!
"Let's do My Way". The introduction to MY WAY begins and Elvis says to the audience as Charlie hands him the sheet music, "I don't know the words so I have to read it".
"Angel" a girl screams.
What a nice change to hear this song performed so early in the concert.
Elvis sounds strong and confident throughout his performance. He holds off a little on the line, ".yeah, and spit it out". This version is on par with the June 21, 1977 version, if not better. It would make for an ideal choice to release on a future release.
"My third movie was called Jailhouse Rock". The audience goes nuts, and Elvis tears into a fine version of this classic. No panting, and all lyrics are pronounced clearly. One can just imagine Elvis rocking from side to side with his thumb hanging onto the chain in his belt.
"Thank you very much. Mountain." Elvis commands the start of YOU GAVE ME A MOUNTAIN. Elvis sings with a lot of conviction during this performance, and Ronnie's drumming is heavy and forceful. Elvis' arm movements bring cheers and screams. "She took my reason for living" makes you cringe thinking Elvis is directing his accusing tone at you! This would be without doubt the best version I've heard from 1977 – or any year for that matter! "Thank you very much. I'd like to do arrr. Let me see that. That t-shirt" Elvis interrupts himself.
"In 1960 we did a song called It's Now or Never. And it was taken from the urr, the song O Sole Mio. I'd like to ask Sherril Neilson to urr, to do the eye-talion Eee-talion, Italian version. Listen to his voice ladies and gentlemen. Oh he knows it too"!
Sherrill starts his usual O SOLE MIO, however the whole while the girls are screaming, "Oh Elvis. Oh, you're such a hunk". Elvis can be heard laughing heavily through his nostrils into the microphone. He is obviously pulling faces at Sherrill which the audience can clearly see. The girls laugh as Sherill hits the high notes. Elvis had fun making fun of Sherrill during this segment.
IT'S NOW OR NEVER proves to be a strong version accompanied by screaming trumpets during the chorus. "Tomorrow will be toooooo laaaaate" at the end receives the same treatment as the June 21, 1977 version, and the crowd goes ape.
"Thank you very much. I'd like to sing some of my records for you, starting with Little Sister".
LITTLE SISTER is characterized by heavy drumming and a pumping bass. This version is slightly edited, and would have proved to be in the top three best 1977 versions available. The band try to end the song after two "Little sister don't you do what your big sister does" but Elvis forces a third.
TEDDY BEAR/DON'T BE CRUEL has Elvis singing every lyric. The fans are going ballistic, and Elvis is obviously working them.
"Thank you ladies and gentlemen. And Love You So" Again Elvis repeats, "And I Love You So. Don't look at me, just start the song". A slight irritation is heard in Elvis' voice, but both he and the band perform a very good and straight forward version.
"Thank you. I'd like to do a song that features the Stamps called How Great Thou Art". There is a strange silence in the audience before the song starts. One girls screams, "Alright Elvis"! Another screams, "Elvis, you're a Saint".
Elvis puts his all into this performance. There is a slight clunking sound during the Stamps part but does not distract from the song. If you like the June 19, 1977 version of HOW GREAT THOU ART, then you ain't heard nothing yet! Elvis blows the roof of the arena from the moment he declares the first "How Great Thou Art" to last at the end of the song. He even adds the repeated "How great. How great. How great, thou arrrrrrrrrttttt" just like the Omaha version, but this is even better!. From the initial non-response when Elvis introduced this song, he easily winds the audiences' approval of both the choice of song and his proven ability to sing as only a master can do.
As the applause dies down Elvis announces, "I'd like to introduce you to the members of my group before we go any further", the band begin to play the familiar theme used in 1977, and Elvis is heard saying, "What"? before the tape edits straight to EARLY MORNING RAIN. Unfortunately there are several more edits during this song that proves to be a complete version sung, but not recorded. What a song to edit! Sheesh!
"On lead guitar from Shreveport, Louisiana is James Burton". James launches into a short but rocking version of WHAT'D I SAY with Elvis singing along with much enthusiasm. Just as James tries to end the song Elvis says, "Let's try this again" and Elvis reprises the solo again although James is a little confused and only just scrapes the ending through. "I'm gonna ask you to play it at the back of your head and see if you can do it better than that ending" by now Elvis has bursted out laughing and chokes on some of his words. The audience laughs along, and you can hear the Inspirations laugh as well. "Johnny B."Elvis laughs again. "It's ok" he assures himself. "When you're ready". James lets rip with a typical version of JOHNNY B.GOODE all the while Elvis tries hard to compose himself.
"Thank you James. On the drums from Dallas Texas is hard working Ronnie Tutt". Ronnie belts out the same solo as he did in June during the CBS special. Unfortunately the sound quality deteriorates here somewhat, however the roar of the crowd is clearly heard toward the end of his solo. "From up in Vancouver Canada on Fender bass is Jerry Scheff". Elvis throws in some bluesy "Yeahs" as Jerry escapes to another world with his bass. "Thank you Jerry. On the piano from Nashville is Tony Brown". Tony performs that solo we hear in the CBS special. Elvis adds plenty of bass tones with his voice throughout the solo.
"We have a new guy with us, and this is his first show with us tonight. He's on electric., his name is Bobby Ogdin". The man who claims he never met Elvis offstage performs a solo different to that from heard in the CBS special. "The fella that gives me my water and my scarves. He's my friend, Charlie Hodge. Our conductor, he's from Las Vegas. Mr Joe Guercio. The Joe Guercio Orchestra".
HAIL HAIL ROCK 'N' ROLL begins, and Elvis sings along from the start, however he does not sing the last few words, but adds a "yeah yeah yeah yeahhhhhhh" to the end.
"One of my latest records is called Hurt". This quick introduction fuels an already over excited audience. HURT is a very strong version with a beautifully spoken dialogue and the high notes at the end are easily hit. "Thank you very much" Elvis leans over and screams out, "You aint nothing butta hound dog" causing pandemonium. However, for the first time this night he lets he performance slip and gives HOUND DOG the usual treatment. "Thank you very much. I'd like to ask Sherrill Neilson to do, huh? Oh, you wanna hear Fever? No problem".
Just when you think you going to have to sit through Danny Boy by Sherrill Neilson FEVER starts. "I light up when you call my name – Elvis" is sung, however Elvis sings his name in a rather quiet fashion. Throughout this song Elvis is working the crowd by gyrating during in the appropriate points of the song. The crowd thinks it's great.
"Shake it Elvis" the girl screams. This song receives one of the strongest applause of any song this night.
"Thank you ladies and gentlemen. You're a beautiful audience. I'd like to tell you arrh. Honey, please"! Elvis jokes with some fans. "Anytime you want us back just let us know and we'll come back. So until we see you again stay safe".
CAN'T HELP FALLING IN LOVE signals the end of the concert. The crowd roar their disappointment that Elvis is about to leave the building. However, the people recording the concert decide they're going to pack up and beat the crowd outside. So the sound level of Elvis and the band begins to fall, and footsteps can be heard as the recorder leaves the arena. It is obvious that even outside in the car park you could sit and listen to the Elvis concert. The clunking of high heels is heard as the girl hurries to maintain a quick walking pace with her friend. He says, "I wanna get down here next to my, huh? It's over here somewhere".
"Do you know where we're going"? another guy asks.
"Yeah. He came in right over here".
"Down near that woman" the girl says.
"Yeah, lets try around here" the first guy says. And just when the hunt for Elvis gets good the bloody tape ends! Arrrrrrrgggggggghhhhhhhhh
This is truly a well sung and inspired concert for the most part. Unfortunately it suffers from the "Let's take it on home" syndrome when Elvis would often end a concert quickly after the introductions by performing Hurt, Hound Dog the Can't Help Falling in Love. However we are luckily treated to Fever. For me the only downer in this concert is Hound Dog, but that is to be expected. Otherwise all songs are sung extremely well. I would encourage everyone to obtain a copy of this "opening tour" show for two reasons. 1) The most important reason is that this show represents Elvis in a positive light at a time that many fans simply write off without really hearing these shows in detail; 2) The second reason is for the crowd reaction. It is a real insight to hear what people said to each other during the concert, or what they yelled to Elvis, and suppose what they thought out loud. The sound quality of this concert is 7/10 (apparently there is a more muffled version that has been around for years, so take note of this), the performance is 9/10. I only wish Elvis exceeded his fifty seven minute appearance and performed a few more songs. And I agree with Billy Smith. Elvis did put on one hell of a show!
Evan