I never get tired of looking  at his pictures  from this concert or watching this concert, it is definitely one of my favorites!!!
Elvis never failed to put his fans first, he always took special time for them and it was deeply sincere, That's something I have yet to ever see with any other famous person!
This concert was the most expensive concert of that time costing 2.5 million dollars!
Man was it worth it! I remember being gathered around the T.V. with my family watching this. Very exciting t see, excellent moment in history!
Below is some actual footage of the concert, It's still hard for me to grasp that there are some new fans out there that haven't seen this concert yet. They have no idea what they are missing!
http://www.youtube.com/watch?v=zxRik50rQ_w&feature=related
Elvis speaks about the Aloha concert:
http://www.youtube.com/watch?v=KKD46kJP8Ck&feature=related
End of the concert:
http://www.youtube.com/watch?v=J_-Rayg6XoI&feature=related
If you havent seen this concert, You just have to, it will blow you away!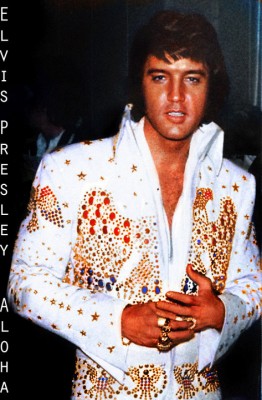 " Elvis Statue Unveiled July 26th, 2007″
t was in honor of Presley's 30th anniversary of his passing and to commemorate the King's record-breaking "Aloha from Hawaii" concert on January 14, 1973.