A Story told by someone very close to Elvis, I felt it was worth sharing.
Buddy Holly really got inspired by Elvis Presley after seeing him on The Ed Sullivan Show in 56. Later that year in Lubbock Tx Elvis was playing at the fair park coliseum after the stars played there they would go to the Cotton Club just to hang out and have a good time. It was there Buddy Holly was playing the dance before the stars showed up. He happen to see Elvis and went up to talk with him. Buddy was talking about his love for music and asking advice on the right way to follow his dream when Elvis asked him to play something he and Elvis sat down and talked and played for a while sharing the guitar back and forth Buddy made a comment about just having to keep playing until he felt he was ready, Elvis spoke up and said Hell you're ready now. It was that night Buddy started to put together The Crickets and had the courage and motivation he was needing.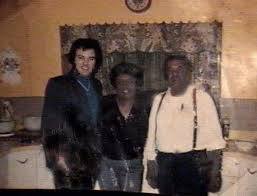 The trick to making Elvis' famous Banana and Peanut butter sandwich is you have to toast the bread before cooking them up and it takes about an entire stick of butter to make it right.. I learned to make these from May-wee (Mary Jenkins) herself. She said there was only one  to cook them this way, Elvis didn't want them any other way He didn't like change. She told me a story of when he was in the hospital he called her and told her to slip him some hotdogs She was a beautiful lady all heart and really loved Elvis. She said the last thing she cooked for him was a cheeseburger .Through Johnny Harra I got to meet Mary just before she passed also met Nancy Rooks who was also a cook and maid for Elvis. Elvis really touched the life's of many just caring for others..
~ Charlie Estepp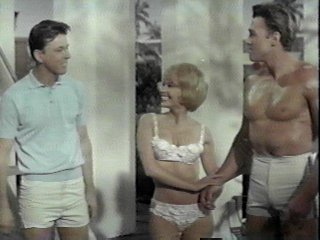 Most Elvis fans Ive spoken with didn't know that Dan Haggerty played in Girl Happy with Elvis ( he is the man on the far right, his name was Charlie in that movie) He also stayed good friends with Elvis.
Dan Haggerty also believes that Elvis was special. 
"He was very kind to me and he had that aura about him which only the genuine stars possess," he said, "There was no big ego with him. He'd always had time to stop and say hello. The other thing that people don't appreciate was that he was a wonderful actor, he was a very talented man."Haggerty had many opportunities to get to know Elvis through their mutual friend Ann Margret. Dan built Ann's custom "chopper" motorcycle and spent a lot of time with her. They both socialised with Elvis in Las Vegas where Dan got to know him well. He also had an uncredited role in the 1965 Elvis film 'Girl Happy'.
For those that don't remember Dan Haggerty became famous for his role Grizzly Adams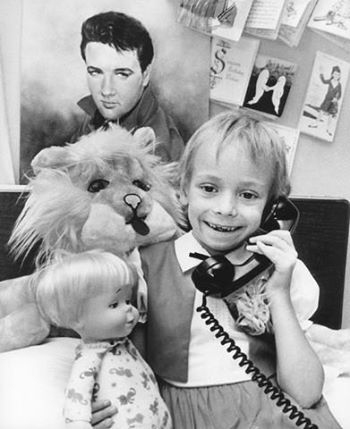 "October, 1966 – "This is Elvis Presley, Gina." And the voice was wishing Gina William a happy seventh birthday in her room at St. Jude Children's Research Hospital where she is under treatment for a malignant tumor. The birthday phone call is only the beginning. Elvis promised to visit her when he gets home in about a month, and she got an autographed picture from him and one of his albums…
There's no question that Elvis is one of the most phenomenal cultural icons that the world has ever known. There was, however, another side to Elvis that doesn't very often make the news.
Having grown up poor Elvis learned early on what it meant to receive help. So it seems only natural that as soon as he was in a position to help others in need, he gave freely to those close to him, to strangers and to worthwhile charities – it came from the purity of his heart and his desire to help his fellow man.
Whilst giving to charity is not uncommon amongst 'celebrities', what is not so well known about Elvis is that he didn't claim a tax write off for most of his charitable givings. This is made even more significant by the fact that he was in the highest tax bracket (including when that bracket was 95%) and he routinely included a note to the IRS with his tax return which said, "Tell me what, if anything, I owe you."!
"Throughout his life Elvis would visit the "Graceland Secretary's", who among other tasks went through Elvis' mail, and if a photograph, a request, or a story touched Elvis he would immediately take steps to help the people involved. Whether it was paying off people's debts, helping a family whose father had died in the line of duty, paying off someone's mortgage, buying them a home, buying them a car, or giving a disabled person a new wheelchair, if Elvis knew about it…he helped.I have always believed that the greatest gift one can give…is of themselves and this is true of Elvis Presley. Interestingly, more times than not Elvis asked one thing for the money he routinely gave to others and that was for his giving to remain solely between him and those who were tasked to making sure the people received the money.
While all giving, to those in need, is honorable when one gives SOLELY for the purpose of giving, and derives no monetary benefit (i.e. tax write off), it is deserving of our respect and acknowledgment we should all remember these things about Elvis instead of the bogus stories the National Enquirer wrote about him, I wish EPE would do a better job at promoting him instead of making money off of his name at the expense of the fans, they should spend time preserving the memory of the man he truly was.
An Interview with Bill Medley about Elvis:
https://www.youtube.com/watch?v=-QDjdSyfJFs&feature=youtu.be